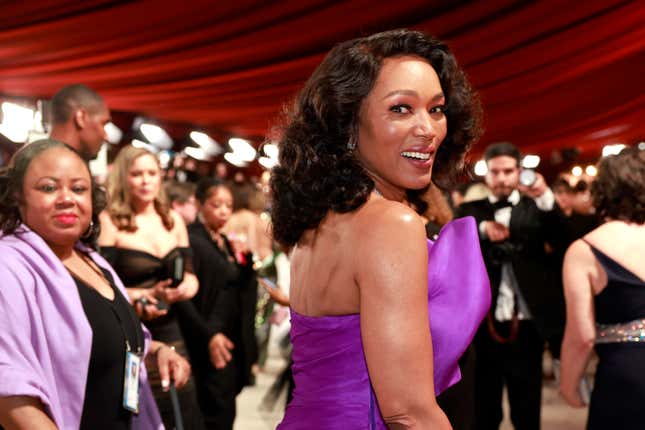 I wouldn't be surprised if many people clicked over to another channel after Angela Bassett was gagged AGAIN at the 2023 Oscars. The one category we were all waiting for was placed at the very beginning in the producers' efforts to televise every category in a timely manner.

Therefore, after the winner for Best Actress in a Supporting Role went to Jamie Lee Curtis, it was time for bed, which meant you might have missed some very Black and priceless moments.
Here's a list of some moments worth remembering from the 95th Academy Awards.
1. Morgan Freeman Shocked at Ariana DeBose Being Shocked to See Him

There's no other appropriate way to acknowledge Morgan Freeman than this adorable interaction. Ariana DeBose was backstage when suddenly, Morgan Freeman walked by. She gasped loudly and stood paralyzed with a wide-eyed stare.
In response, Freeman also stood there just as surprised and possibly confused of DeBose's star struck reaction.
"I just really respect and love you a lot, sir. My name is Ariana and it's a pleasure to meet you," DeBose said while excusing herself out of the way.
G/O Media may get a commission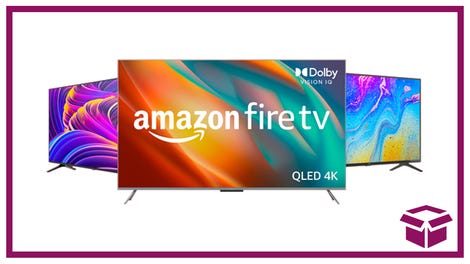 Ooh. stunning.
New Amazon Fire TVs
Ryan Seacrest then asked Freeman what the reactions have been from fellow actors meeting him for the first time which he responded, *gasp!*
2. A Sweet Surprise for Brian Tyree Henry
Access Hollywood surprised Best Supporting Actor nominee Brian Tyree Henry with a recorded message from his acting teacher from Yale, Ron Van Lieu, pushing him to tears on the red carpet.
"Sending you all my love and all my best wishes on this happy day," Lieu said. "It was almost 20 years ago that we first met in Chicago...Thank you for being yourself, my friend."
Henry said his teacher changed his life at just 22 years old. While wiping tears from his eyes he thanked the reporters for their gift which made his special day even more special.
3. Michael B. Jordan Fangirls over Andrew Garfield
While waiting to enter the red carpet as Andrew Garfield got his pictures taken, Michael B. Jordan acted like every 2014-Spiderman-stan standing on the side.
"Andrew! Andrew! We love you!" he cheered in a high-pitched voice, causing Garfield burst into laughter.
In what multiverse is Killmonger in the Spiderman fan club? I'd like to visit.
4. Danai Gurira Honors Chadwick Boseman
In a short but powerful introduction to Rihanna's performance of "Lift Me Up," Danai Gurira reminded us of why that song was so special: to honor Chadwick Boseman or our late King T'Challa.
"Chadwick's powerful artistry, his magnetism and incomparable humanity left an indelible mark on our hearts... his legacy will live on for future generations," she said holding back tears. "And as we say in Wakanda - thank you, King."
She held her tears but I certainly could not.
5. Ruth Carter Makes (Her)story
To soothe the wound of the first loss of the night, Ruth Carter triumphed in the Costume Design category for "Black Panther: Wakanda Forever." That being said, she became the first Black woman to have won TWO Oscars in any category. Her win isn't just her win but a win for all Black girls who desire to pursue fashion and costume design.
7. Samuel L. Jackson's Reaction to "Whale's" Win
Samuel L. Jackson walked out on stage with Jennifer Connelly to present the nominees for Best Makeup and Hairstyling. Given Black Panther: Wakanda Forever was already cheated for the Angela Bassett snub, having the award go to "The Whale" was another smack in the face - and Jackson was unimpressed.
He showed it all over his face that he didn't give a damn about Brendan Fraser's fat suit taking the award. Let's face it. We have trouble keeping a poker face.
8. Rihanna's Heart Lifting Performance
After bussing it down the Super Bowl LVII, Rihanna gave a more intimate, heart-felt performance at the 2023 Oscars. Accompanied by the sound of a choir, she slowly rose on the stage singing her nominated song "Lift Me Up." She stood there draped in jewels and showing off her belly bump through a sexy, lace ensemble.
One thing is for certain - the mic was ON. The cherry top of the moment was the camera panning to A$AP Rocky cheering her on.
9. Jabs at Will Smith's Slap
Jimmy Kimmel would not let anyone in the audience or watching from home forget Will Smith slapping Chris Rock at the Oscars last year. From notifying the audience of their new code of conduct procedure for "violent behavior" to advising people to "give the assailant a hug" if anybody wild's out, Kimmel gave the perfect amount of witty without overdoing it.
Remember: if you want to get jiggy with it, it's not going to be easy.
10. Angela Bassett's Snub
Ms. Bassett held a queen's composure after being snubbed for Best Supporting Actress in "Black Panther: Wakanda Forever,'' which means she didn't pretend to be happy, but didn't show her anger. After gracing the champagne carpet with poise and her gorgeous smile, she tried to keep a peaceful grin while the winner was announced, but we all saw the heartbreak in her beautiful face when she realized she did not win. We were feeling the hurt too.
We have love for Jamie Lee Curtis, the ultimate Hollywood legacy child. But Angela deserved to win. Watch the playback with this link. 
11. An Exclusive 'Little Mermaid' Sneak Peak
Halle Bailey is already one of the most adorable humans to walk to Earth but somehow got even cuter on stage while presenting the newest trailer for the long awaited "Little Mermaid" live-action film. As she shared how honored she was playing such an iconic Disney princess, the crowd erupted with applause and her smile grew ear to ear as she chuckled, "Thank you!" in the microphone.
Sorry haters, you can't steal her Black girl joy.
12. "Hey auntie..."
Michael B. Jordan addressed his cast-mate (or cast-mom), Angela Bassett, saying, "Hey auntie, we love you," ahead of presenting the nominees for Cinematography with Jonathan Majors. This didn't seem like just another "Hey auntie" catch phrase. Jordan put a little love on it to acknowledge the obvious snub of one of the most legendary actresses in the room and also a matriarch who he's regarded so highly since working with her on the first "Black Panther" film.
13. Questlove's Crystalized Crocs
Did anyone notice what was on this man's feet?!
On the red carpet, he said he's begun exploring a more laid back type of style after the pandemic where otherwise he'd be uncomfortable in a fancy pair of sneakers. Rich people really do whatever they want. For Black rich folks, I love that for them.
14. An Unbothered Tems
Tems' graced the champagne carpet with a beautiful, extravagant white gown that flowed a couple feet behind her and also above her shoulder and lightly draped above her head. Given the space outside the venue, the pictures came out stunning. However, sitting down in a theater was a different story and still, as a Black woman should, she was completely unbothered taking up space. She deserved to.
She also had Black Twitter cracking up.