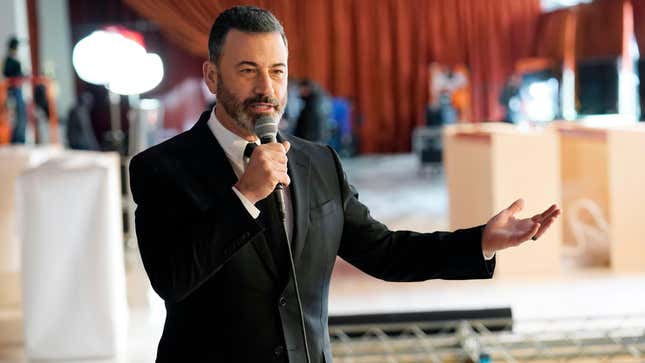 Updated 3/12/23 at 8:46 p.m E.T: Kimmel's monologue referenced last year's slap and painted Will Smith in an unflattering light. He joked:
"Five Irish actors are nominated tonight, which means the chances of a fight just went way up. We want you to have fun, feel safe and, most importantly, we want me feel safe. So, we have strict policies in pace. If anyone in this theater commits an act of violence at any point during the show, you will be awarded the Oscar for best actor and permitted to give a 19-minute long speech. But seriously, the academy has a crisis team in place. If anything unpredictable or violent happens during the show, sit there and do absolutely nothing. Maybe even give the assailant a hug. And if any of you get mad at a joke and decide you want to get jiggy with it — it's not going to be easy," Kimmel ended, as the camera zoomed in with folks like Michael B. Jordan's and Michelle Yeoh seemingly ready to square up.
Original Post:
On March 12, Jimmy Kimmel will host the Oscars for a third time. The first time he hosted the prestigious awards ceremony was back in 2017, when La La Land was deemed the winner for Best Picture when it was in fact Moonlight. As ABC 7 reported, Kimmel sat down with entertainment reporter Sandy Kenyon and admitted that even though he said he wouldn't host again, he "lie[s] a lot."
Until last year's Academy Awards, that might have been the most shocking moment in the institution's history. When Will Smith slapped host Chris Rock, the world couldn't stop talking about it. Smith apologized shortly after the incident, resigned from the Academy and was banned from attending the show for a decade.
Regarding all of the Will Smith/Chris Rock drama, Kimmel shared that he was "glad that [Rock] came out on the winning side of that." The star also revealed that he plans on using his monologue to address that exchange and move on. "The 95th Oscars show will be a success if no one gets hurt, I think the bar's pretty low now," Kimmel remarked. "I have to thank Will for that."
G/O Media may get a commission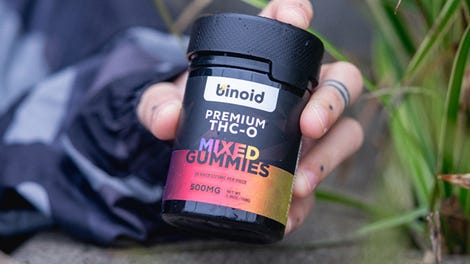 25% Off + Free Shipping
Binoid THC-O Gummies
The comedian continued. "You hate to set a great joke aside, every time I do the Oscars, I wind up with six great jokes that just, they didn't make it into the show," Kimmel said. "Sometimes you're rooting for winners just because you have the best joke attached to that winner."
In the past, Kimmel has been criticized for his brand of humor. He found himself in the center of controversy for disrespecting Quinta Brunson at last year's Emmys. As she accepted an award for Abbott Elementary, Kimmel laid on the stage at her feet pretending to be unconscious. His stunt drew attention away from Brunson, a Black woman who continues to make history and break down barriers with her immense success.
Let's see what kind of humor he brings to the Oscars stage tonight.