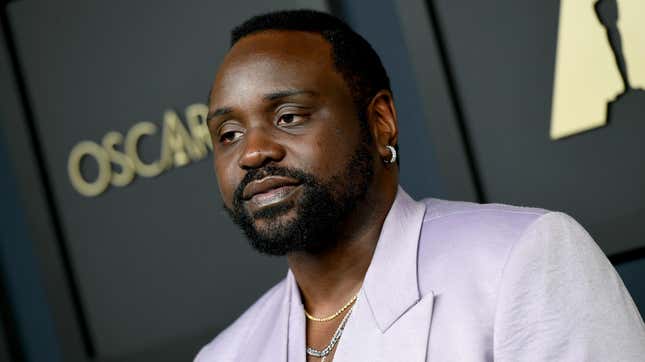 Whether you know 2023 Oscar nominee Brian Tyree Henry as Paper Boi (Atlanta), Lemon (Bullet Train), or Phastos (Marvel's Eternals), you know he's been on your screens in an increasing amount over the last several years. And if you haven't been paying attention to the Yale School of Drama grad, here's why you should.
Severance & Great American Baking Show's, Zach Cherry, Plays That's So Random
Not only is he up for Best Supporting Actor at this year's Academy Awards for his role in the critically acclaimed AppleTV+ film Causeway, but he's consistently been putting out nuanced performances since he appeared on Atlanta in 2016. Henry turned what could have been a stereotypical rapper portrayal in a dramedy in another actor's hands into something with so much depth and layers, it's no wonder why he earned an Emmy, SAG, and Critic's Choice Award nomination for his work.
In the 2018, Viola Davis-led film Widows, Henry's turn toward malice as a corrupted yet charismatic politician and crime boss still shakes me every time I think about it. Not because of what he did or said—to be clear, Daniel Kaluuya had some of the most frightening moments in this one—but because of how he did and said it. And that seems to be the throughline with every one of his performances. Henry never does the most, but just enough. He never overacts or underacts, but instead portrays these characters within the space that's somewhere perfectly in the middle. It's almost as if he acts with an invisible bungee chord attached to his talent, allowing him to go as far as he needs to in order to properly convince audiences of his portrayals before reeling it back in and keep us guessing. He's a scene stealer's favorite scene-stealer and whether he has a little or a lot of time on screen, he makes the most of it in every frame. (Looking at you If Beale Street Could Talk and This Is Us.)
The only thing that's perhaps most frustrating about him as a performer is that the powers that be seem to always put him in a supporting role when it's clear to anyone paying attention he's got what it takes to deliver as the lead. Hopefully, now that he's gotten a "co-sign" from the Academy, this will signal those in charge to give us what we all need. He's a true gift and whether or not he takes home the gold on Sunday, it needs to be known that he's already a winner to us.
We're rooting for you, Brian!