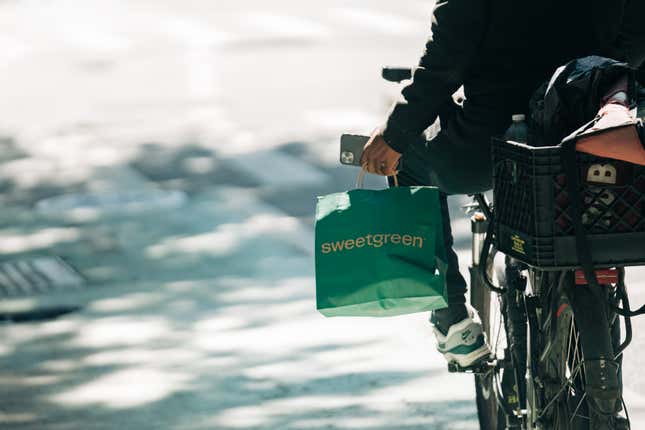 You'll almost always see a Black or brown face behind the counter when you walk into Sweetgreen on your lunch break. In New York City, a group of them claimed they've been going through hell, being berated with racial slurs and more in a recently filed lawsuit.

"Dip The Pen In Your Own Blood": How To Find Success As An Author | Securing the Bag: Part 2
About ten Black and brown employees of the popular food chain filed a complaint against the corporation alleging a discriminatory and hostile work environment based on gender and race dated back to 2019. They accused the store's general managers of not doing anything about the disgusting interactions they reported in the suit. One Hispanic woman employee claimed a coworker told her she had "dick-sucking lips." Another claimed her manager placed his hand on her lower back, while making sexually inappropriate comments about her body. She said she was scared to report him because of his rank above her.
Black employees say they were consistently referred to as the n-word or monkeys by co-workers who would use the slurs in Spanish and sometimes, to their face, the suit claimed. "My n——r, you're stupid," one employee said they were told.
Overall, the plaintiffs claim that Black workers were discriminated against when it came to handing out tasks, sorting work hours and even their appearance for work. One Black employee claimed they were told to "fix their hair" because it was "all over the place" while Hispanic employees with similar hairstyles weren't given any notice.
In response to the lawsuit, Sweetgreen responded in the typical, vague manner: "We take these accusations seriously and do not tolerate any form of harassment, discrimination, or unsafe working conditions," a spokesperson said to Axios.
The suit is demanding compensatory damages for attorney costs and emotional distress as well as a declaration that the behavior detailed in the complaint is unlawful under the NYC Human Rights Law.
Be kind to whoever's making your Harvest Bowl. You never know what's going on in the background.