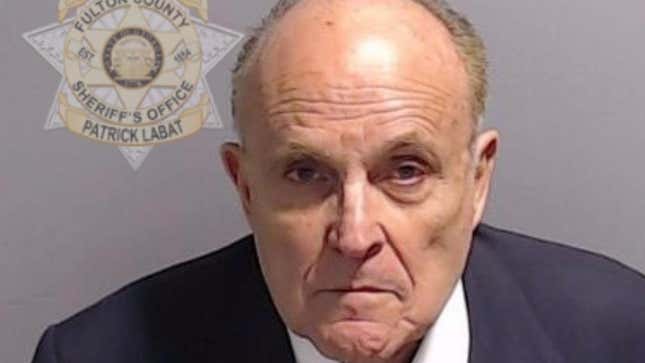 How much will Rudy Giuliani owe after being found legally liable for defamation against two Black women election workers in Georgia? He may have to pay big for falsely accusing Ruby Freeman and Shaye Moss of altering ballots during vote-counting in Georgia after the 2020 election.
Even though investigations proved these allegations to be false, the right intensified the accusations as did Donald Trump. U.S. District Court Judge Beryl Howell's scathing ruling was 57 pages long and explained how Giuliani overtly ignored her orders to produce pertinent evidence to Freeman and Moss.
Howell wrote that although Giuliani understood what his obligations were to turn over discovery in the case—he was once a lawyer, after all, "Instead [he]...turned slippery on scrutiny and excuses designed to shroud the insufficiency of his discovery compliance."

In legalese, homeboy tried to get away with some nonsense, and the judge wasn't having it. But wait, there's more.
The bottom line is that Giuliani has refused to comply with his discovery obligations and thwarted plaintiffs Ruby Freeman and Wandrea' ArShaye Moss's procedural rights to obtain any meaningful discovery in this case.
Which made the real bottom line a default judgment and to-be-determined damages against Giuliani. "Just as taking shortcuts to win an election carries risks — even potential criminal liability — bypassing the discovery process carries serious sanctions," Howell stated. And boy, we can't wait to find out just how serious those sanctions get.

See, ol' Rudy is already in a financial pickle. The fact that his New York law license was yanked in 2021 and earlier this year, an ethics panel of the Washington, D.C., bar recommended the same happen to him there, means he's likely having a hard time generating income. And well, that kinda sucks since his legal bills are piling up, mostly as a direct result of his efforts to help Trump hijack an election.  
Weeks ago, Giuliani apparently admitted the claims he made were untrue as part of a bid to not provide additional evidence. Howell questioned the validity of that admission. Now, the case will now go to trial to determine what Giuliani will have to pay to Freeman and Moss in damages.
Howell's ruling is connected to a lawsuit that the women both filed in 2021 against Giuliani in federal court in Washington. Freeman and Moss accused him of defamation, intentional infliction of emotional distress and civil conspiracy. The amount of money the women are seeking remains unknown.
The pair could request direct compensation for the harm caused to their reputations as well as punitive damages which could mean a larger payout. This just adds to Giuliani's continued legal problems as he struggles financially, as he is not only dealing with a slew of civil lawsuits and his criminal indictment in Georgia.
Giuliani—and other Trump allies—are finally facing the consequences of their actions and it is quite the sight to behold.