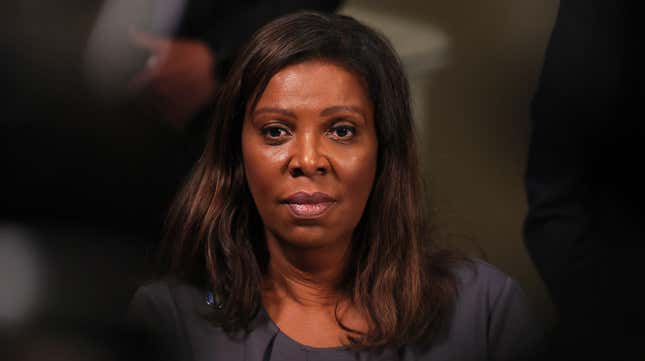 Following allegations by New York Attorney General Letitia James that Donald Trump inflated his net worth by $2.2 billion dollars, the former president took to his social media platform Truth Social to do what he does best: throw a tantrum.
Can Donald Trump Serve As President From Prison?
Trump wrote:
"THE THING I HAVE IS A GREAT CASE BASED ON PHENOMENAL NUMBERS THAT SHOW A NET WORTH BILLIONS OF DOLLARS MORE THAN SHE VICIOUSLY & FALSELY CLAIMED, VERY LITTLE DEBT, BIG CASH, A POWERFUL DISCLAIMER CLAUSE, PAID OFF LOANS, NO DEFAULTS, 'HAPPY' BANKS, GREAT ASSETS...I WAS DEFAMED BY NYS – ELECTION INTERFERENCE!"
Trump is a pro at feigning victimhood and also claimed he received "no constitutional rights" and was "targeted" by the investigation. Earlier this week, James accused Trump of ridiculously padding his net worth, which serves as part of the state's business fraud lawsuit against Trump, the Trump Organization and his oldest children.
The suit seeks a $250 million fine and to bar Trump and his family from running businesses in New York. James asserts that Trump's company changed the value of its assets so it could pay a lower tax rate and get better insurance rates.
The civil suit is set to go to trial Oct. 8. The court papers were filed Wednesday in state Supreme Court, where prosecutors requested the court to rule in favor of the attorney general's office on just the first cause of action they brought against Trump last year.
That cause of action stated that Trump and several Trump Organization employees used financial statements in order to fraudulently inflate his net worth by billions of dollars yearly from 2011 to 2021.
"Correcting for these and other blatant and obvious deceptive practices engaged in by Defendants reduces Mr. Trump's net worth by between 17-39% in each year, or between $812 million to $2.2 billion, depending on the year," the filing stated.
The lawsuit is just one of Trump mounting legal and financial woes. He can talk all he wants online—but it won't negate the very real fact that he may spend the rest of his life in prison.