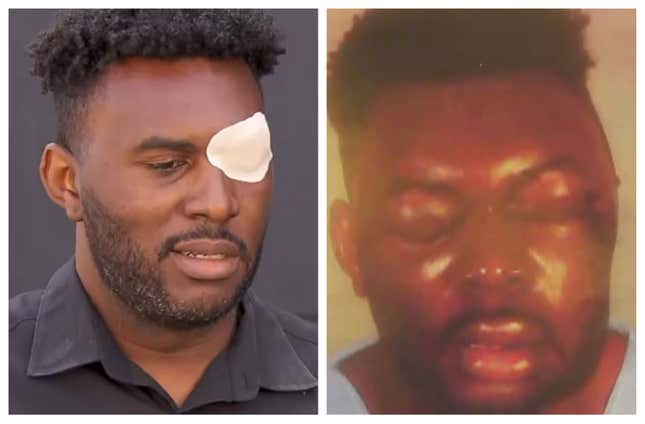 In 2020, what Christopher Bailey assumed to be a basic traffic stop resulted in a brutal beating by a group of sheriff's deputies. His lawsuit after the fact just landed him a $4.75 million settlement. Though, money can't undo the permanent injuries he sustained.

Small Town Horror Story: The Killing of Latasha Harlins & The L.A. Riots
Bailey said in his suit that he was pulled over in Inglewood May 4, 2020 while driving home from work for straddling lanes. However, when the two deputies approached his car, Bailey says they dragged him out without warning and commenced beating him. Bailey was placed in a chokehold, punched and kicked repeatedly and tased. The two officers also called for backup, bringing four more deputies to the scene who also joined in beating Bailey for several minutes, the suit claimed.
A bystander caught some of the aftermath on video, capturing Bailey's barely recognizable and extremely swollen face as he sat handcuffed on the ground.
The cops say their response was because they saw him reach for a firearm but that claim was disputed after prosecutors confirmed no weapon was found from the scene. Then, the sheriff's department threw the (overused) "resisting arrest" claim and handed Bailey other charges.
Read more from The Los Angeles Times:
The district attorney's office — then under Jackie Lacey — charged Bailey with three felonies for resisting arrest, as well as two marijuana-related misdemeanors. The felonies and one of the misdemeanors were later dropped. Bailey's lawyers said he pleaded no contest and was found guilty of the other misdemeanor and a vehicle code violation. According to a memo authored by prosecutors, Bailey had 3 pounds of marijuana in the car, which he said was for personal use.
Black men are often victims of police beatings stemming from resisting arrest claims. Back in 1991, just 28 miles north of Inglewood, Rodney King was brutally beaten by LAPD officer who claimed he was "resisting." Earlier this year, Tyre Nichols was also brutally beaten by a group of Memphis police officers who claimed he was "resisting." Nichols died days later from his injuries. Does it really take all that to put a single person in handcuffs?
Bailey filed his excessive force lawsuit in 2021, noting he suffered permanent vision loss, missing teeth and had to undergo several facial reconstruction surgeries. He sought damages for battery, negligence and deprivation of his civil rights.
It's unclear if the officers involved were disciplined following the incident or if they still work for the department in general. However, The Times reports all the deputies escaped criminal charges in the incident and somewhere along the line, one of the deputies was later identified as a member of the Grimp Reapers deputy gang.