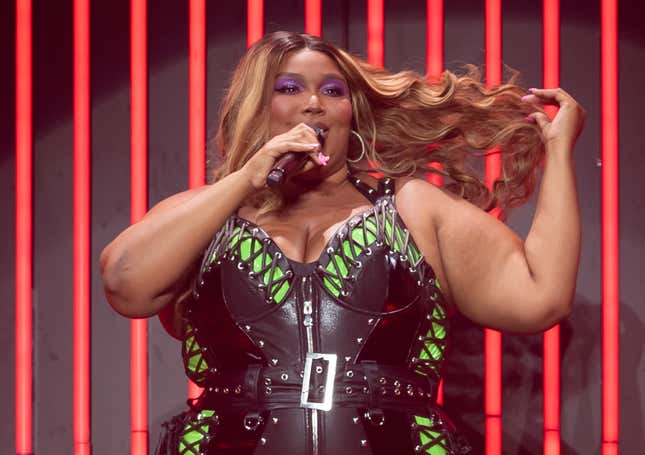 The sexual harassment lawsuit against Lizzo has put a black mark on the singer's career and credibility. Her message of female empowerment and body positivity has been called into question. Now the "Juice" artist is reportedly planning to attack the allegations with a countersuit.

Lizzo: Live in Concert Is Our TV Pick This Week
According to People, Lizzo's lawyer, Marty Singer, gave the outlet photos of Arianna Davis, Crystal Williams and Noelle Rodriguez—the former dances suing the Grammy winner—in Paris on March 5, 2023, "allegedly 'happily cavorting backstage' with performers from Crazy Horse's topless cabaret show." This would mean the photos were taken after their lawsuit alleges Lizzo made them go to the show.
"These irrefutable photos and videos, along with additional substantial evidence, prove the glaring contradictions between what the plaintiffs claim in their bogus lawsuit and what is actually proven by the facts," Singer wrote in a statement. "The lawsuit is a sham. Lizzo intends to sue for malicious prosecution after she prevails and these specious claims are dismissed."
In early August, Davis, Williams and Rodriguez filed a lawsuit accusing the "About Damn Time" singer of sexual harassment and body shaming. They are suing Lizzo, her production company Big Grrrl Big Touring, Inc. and dance captain Shirlene Quigley. The allegations include "sexual, religious and racial harassment, disability discrimination, assault and false imprisonment."
Lizzo responded to the lawsuit, calling the allegations "false" and "as unbelievable as they sound."
"I am not here to be looked at as a victim, but I also know that I am not the villain that people and the media have portrayed me to be these last few days," she wrote on Instagram. "I am very open with my sexuality and expressing myself but I cannot accept or allow people to use that openness to make me out to be something I am not. There is nothing I take more seriously than the respect we deserve as women in the world. I know what it feels like to be body shamed on a daily basis and would absolutely never criticize or terminate an employee because of their weight."
Ron Zambrano, the lawyer representing Davis, Williams and Rodriguez, recently said he is reviewing new allegations from other people who worked on Lizzo's tour and her Prime Video reality competition series Watch Out For the Big Grrrls. He said that some of the accusations, which include the singer creating a "'sexually charged environment' and failure to pay employees," could be "actionable, but it is too soon to say."
Apparently, not paying dancers is a common accusation. According to the Los Angeles Times, Lizzo settled with dancers who said footage of them was used in the "Special" singer's HBO documentary Love Lizzo without their permission. The dancers had a union contract for the star's 2019 MTV VMAs performance, but there was no contract for the non-union behind-the-scenes footage. After management for the dancers pressed the issue, a confidential settlement was reached in February.
Lizzo created a bond with her fans using positivity and self-confidence to make them feel seen and understood. The hard truth is, whether these allegations are true or not, that bond and trust has been irreparably broken.