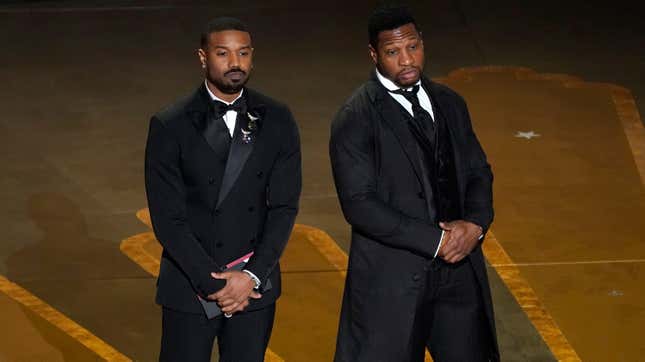 Since being arrested on domestic charges last month in New York City, Creed III and Ant-Man and the Wasp: Quantumania star Jonathan Majors has faced some serious career consequences. As reported by The Root, his talent manager Entertainment 360 dropped him as well as his PR firm The Lede Company. As his professional world continues to crumble at the seams, will his celebrity friendships be next?
Devotion And Marvel Star, Jonathan Majors, Plays A Game Of My Favorite Things
In addition to losing his representation, the incident has led to Majors being removed from several projects, including Protagonist Pictures' feature adaptation of the Walter Mosley novel, The Man in My Basement. The Yale alum was also edited out of a U.S. Army ad campaign, dropped from another campaign for the Texas Rangers MLB team, as well as the unannounced Fifth Season project called Otis and Zelma, a biopic about Otis Redding.
The topic of domestic violence is a complex one when it comes to how victims are treated and the ways reported perpetrators are held accountable. Majors was charged with multiple assault charges after a 30-year-old woman said she was struck "about the face with an open hand" and left with "a laceration behind her ear." At the time of the alleged assault, a spokesperson for Majors told Deadline, "He has done nothing wrong. We look forward to clearing his name and clearing this up."
However, we've seen how pop culture will go out of its way to protect celebrities who are accused of abuse. And for Majors, one of the best parts of his trajectory is how his close friendship with fellow actor Michael B. Jordan has flourished. Over the last year, their bond grew as they promoted Creed III together. We saw profiles on the pair from esteemed publications that detailed their tight connection.
Majors also gave a moving speech when Jordan received a star on the Hollywood Walk of Fame. Their kinship sparked a much-needed cultural conversation on what it means to be vulnerable as Black men. However, does Jordan have an obligation to sever ties with Majors because of the scandal? Time and time again, we've seen how Black men suddenly become martyrs when they are accused of sexual misconduct or domestic abuse.
Supporting Majors—or even publicly affiliating with him—could tarnish Jordan's wholesome reputation. As we've seen before, Hollywood holds Black celebrities to a much different standard when it comes to codes of acceptable conduct. The fact that so many are distancing themselves from Majors and his alleged behavior speaks volumes, and it'll be interesting to see if Jordan follows their lead.