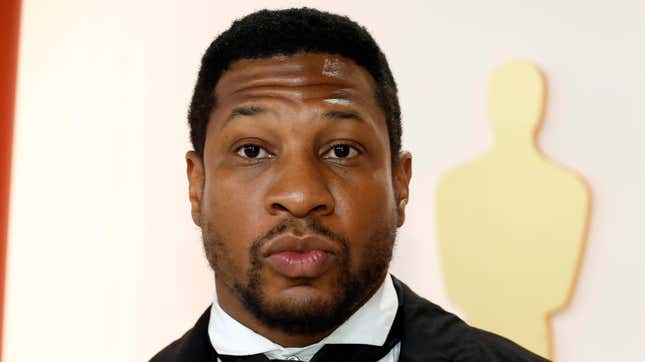 Updated on 4/19/2023 at 9:30 a.m. ET: It seems the Hollywood dominoes keep falling for Jonathan Majors. On Tuesday, we learned that he's now been dropped from a handful of projects including the movie adaptation of Walter Mosley's novel, The Man In My Basement starring opposite Willem Dafoe; a forthcoming Otis Redding biopic; and an MLB ad campaign for the Texas Rangers, per Deadline.
Devotion And Marvel Star, Jonathan Majors, Plays A Game Of My Favorite Things
See the original story below.
On Monday, we learned that Marvel star Jonathan Majors is now without management or public relations company representation.
According to a late report from Deadline, talent agency Entertainment 360 and top PR firm, The Lede Company, have both severed ties with the actor. This decision is reportedly due to "issues surrounding the actor's personal behavior." Over in the fashion world, famed designer house Valentino and Majors have also "mutually agreed" that the Ant-Man star would not be in attendance at this year's Met Gala. Additionally, and perhaps more interestingly, there have been no discussions from Marvel on whether or not it will replace Majors as its current "big bad," Kang the Conqueror. This move comes after the Army also pulled Majors out of ads in their latest campaign.
As previously reported by The Root, on March 25, the Lovecraft Country star was arrested and subsequently released for what New York City law enforcement officials are calling a "domestic dispute" with an unidentified 30-year-old woman. She was taken to the hospital for "minor injuries" on her head and neck" and later released. The following day, Majors was officially charged with "two counts of assault in the third degree, attempted assault in the third degree, aggravated harassment in the second degree, and harassment in the second degree."
Following the initial news of his arrest, his lawyer Priya Chaudhry, released a statement saying that her client was innocent and that the woman had recanted her story and that she had video evidence that would prove her client's innocence. Since then, no video has been released to the public and the only form of "recantation" from the alleged victim came in the form of two text messages that were reportedly sent to Majors after his arrest.
"Please let me know you're okay when you get this. They assured me that you won't be charged," the first text reads as obtained by TMZ. "They said they had to arrest you as protocol when they saw the injuries on me and they knew we had a fight. I'm so angry that they did. And I'm sorry you're in this position. Will make sure nothing happens about this. I told them it was my fault for trying to grab your phone. I only just got out of hospital. Just call me when you're out. I love you."
The second supposed text reportedly continues:
"They just called again to check on me and I reiterated how this was not an attack and they do not have my blessing on any charges being placed. I read the paper they gave me about strangulation and I said point blank, this did not occur and should be removed immediately. The judge is definitely going to be told this. She ensured this to me.

I know you have the best team and there's nothing to worry about, I just want you to know I'm doing all I can [on] my end. I also said to tell the judge to know that the origin of the call was to do with me collapsing and passing out and your worry as my partner due to our communication prior. Out of care. She promised all would be relayed."
Majors is due in court on May 8.