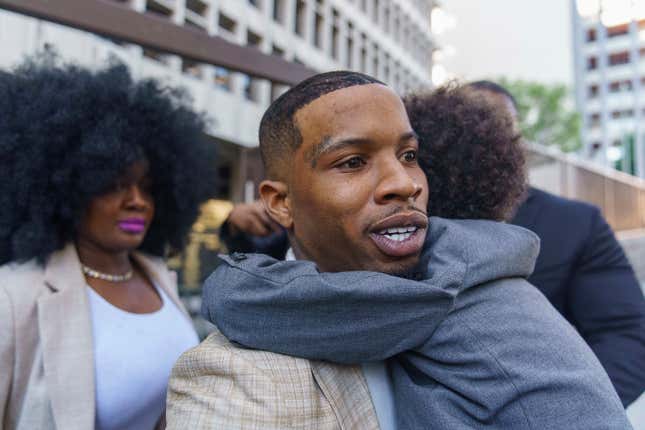 It looks like Canadian rapper Tory Lanez, won't know his official fate as a result of being found guilty on all charges of shooting fellow rapper Megan Thee Stallion back in 2020 just yet.

Will The Real Black Journalists Please Stand Up
Per NBC News, on Monday, Lanez's sentencing was pushed back due to a motion filed by his lawyers, in an attempt to get a new trial. A new court date has been set for next week and will most likely see Lanez's legal team defend their claim that "prejudicial evidence was erroneously entered into evidence" during the trial. The team also alleged that the prosecutorial team "interfered with Lanez's right to counsel with a line of questioning of a key witness, Kelsey Harris, about accusations that Lanez tried to bribe Harris."
However, prosecutors in this case think the motion has no merit and is founded on shaky ground. They have since filed an appeal saying as much as in hopes that Lanez's guilty verdict remains in place.
"The evidence presented at trial was properly admitted, and the defendant's claims of errors and violations of his constitutional rights are without merit. The verdict reached by the jury was based on credible evidence and was supported by the law," the appeal read according to NBC News.
As previously reported by The Root, this sentencing comes nearly three months after the "The Color Violet" rapper was found guilty on charges of assault with a semiautomatic firearm, possession of a concealed, unregistered firearm and discharging a firearm with gross negligence. Once he is finally sentenced, he faces a maximum sentence of 22 years and eight months in prison and possible deportation back to Canada after time served.
In court Monday, his defense said it wanted to raise new issues, and another court date was scheduled for next week, Deputy Los Angeles County District Attorney Alexander Bott said.