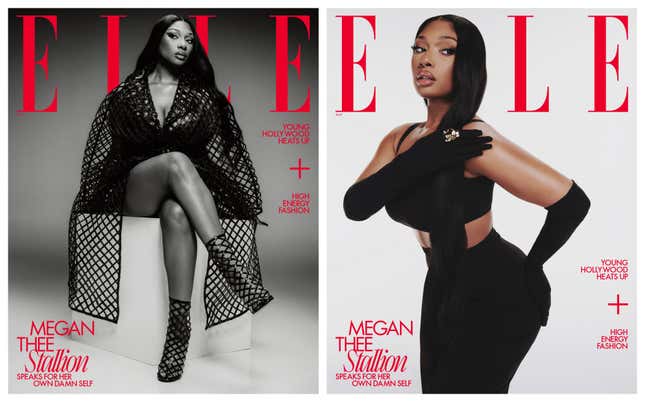 After a four-month-long hiatus, Megan Thee Stallion is speaking up and speaking out about the recently concluded Tory Lanez trial and how she's been dealing in the aftermath.
Will The Real Black Journalists Please Stand Up
Appearing on the cover of the May issue of ELLE Magazine looking as regal as ever, the "Body" rapper detailed what life has been like for her since Lanez was found guilty on all charges in December, addressed being incredulous at not being believed, and why this is the first—and last time—she'll be speaking on this traumatic part of her life.
Entering Her Healing Era
"These last few months, I've been healing after being in such a dark place," Megan wrote. "The physical and mental scars from this entire ordeal will always sting, but I'm taking the appropriate steps to resume my life. I've spent the last few months off social media and taking time off for myself, spending time with my dogs, hanging out with my manager, Farris, and doing a lot of praying."
She goes on to explain how it's been tough to wade through her emotions without the support of her mother and great-grandmother. In spite of that though, she's been navigating through this tough time by praying, journaling, learning how to set boundaries and how to say the word "no."
"It's an ongoing process with moments of fear and uncertainty mixed in with blissful realization. I've accepted this chapter of my life as part of my journey, but I will not allow it to define my journey. I've been dragged through the mud, but I'm so happy that I'm able to finally come out of it with a new perspective," she said.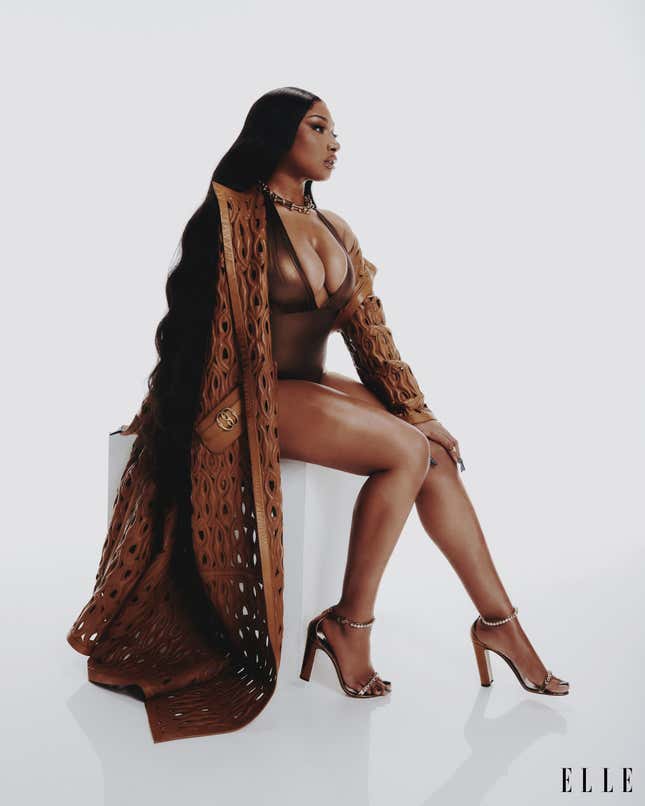 Not "Looking Like" aVictim
Later in the article, the "Captain Hook" rapper also touched on the fact that her trauma wasn't believed and made the center of punchlines, jokes, and memes. She also addressed the notion that she didn't fit the description of someone who had suffered violence and therefore needed no saving or defending.
"My heart hurts for all the women around the world who are suffering in silence, especially if you're a Black woman who doesn't appear as if she needs help," she said. "So many times, people looked at me and thought, 'You look strong. You're outspoken. You're tall. You don't look like somebody who needs to be saved.' They assumed that, per preconceived stigmas, 'I didn't fit the profile of a victim,' and that I didn't need support or protection."
She continued: "Time after time, women are bullied with backlash for speaking out against their attackers, especially when they're accusing someone who is famous and wealthy. They're often accused of lying or attempting to make money from their trauma. From firsthand experience, I know why a lot of women don't come forward. Any support and empathy that I received was drowned out by overwhelming doubt and criticism from so many others."
Not Being Defined by Trauma
Despite having been vindicated in the court of law for this traumatic ordeal, this new phase in life sees the "Savage" rapper no longer reliving this painful time in her life. She insists that this is the first—and last—time she's speaking out about the shooting, Lanez and the harm she endured in an effort to preserve her mental health and move forward.
"My purpose is for these words to serve as the final time that I'll address anything regarding this case in the press," Megan wrote. "I understand the public intrigue, but for the sake of my mental health, I don't plan to keep reliving the most traumatic experience of my life over and over again. I'm choosing to change the narrative because I'm more than just my trauma."
She continued: "I was once told that you can't have crucifixion without resurrection, and that statement resonated so deeply with me. This is a rebirth of a happier and healthier me. I'm a survivor and I have—and will continue—to embrace the highs and lows of my journey."
To read Megan's full essay, head to elle.com.