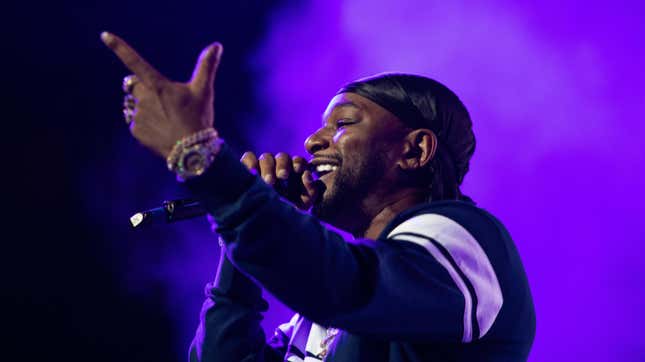 Just one week after Dipset rapper Cam'ron took aim at the at superstars Michael B. Jordan and Jonathan Majors over a recent photoshoot they did, it looks like he's doubling down.
Devotion And Marvel Star, Jonathan Majors, Plays A Game Of My Favorite Things
Over the weekend, the "Hey Ma" rapper took to Instagram to further discuss the issue, only this time addressing those who've said he may get "canceled" for his comments and insisting that he and fellow rapper Mase created "cancel culture" to begin with.
"How the fuck you gon' cancel niggas who canceled they self, nigga?" he began. "Fuck is you talking about? My mom got sick in 2007 and I said, 'Fuck the whole music shit.' I ain't give a fuck. And Killa Season just went quadruple platinum and [I] left the whole music business."
He continued, while asking the Mase about how he decided to drop out of the music business as well"
"When you quit, Murda, how many you sold after you left? Seven million? My nigga sold seven million then quit. You can't cancel niggas who canceled they self and don't give a fuck. We left when we wanted to leave. Fuck cancel culture—we started it with ourself, nigga. Sound stupid!"
As previously reported by The Root, this video comes just after the Confessions With Fire artist reposted a picture of the Creed III actors with the caption: "The reason I didn't go see Creed."
Despite people in his comments then and even people on the internet now trying to point out the reasons why that statement and its inferences are problematic, it looks like Cam'ron won't be backing down or having a change of heart anytime soon.