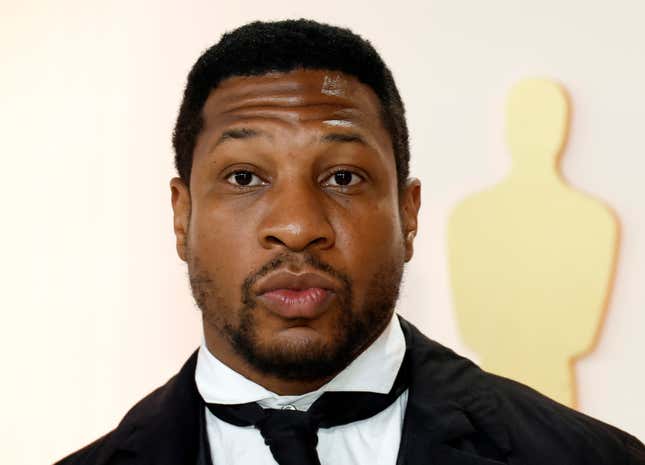 The news of Creed III star Jonathan Majors' arrest on Saturday shocked Hollywood. The actor was arrested in Manhattan and charged with assault and harassment. The NYPD described the incident as a "domestic dispute," where "the victim sustained minor injuries to her head and neck." The most troubling aspect of this situation is the inclusion of "strangulation" in the charges. Experts on domestic violence have asserted that strangulation is a sign that abuse can escalate to more dangerous outcomes. The Devotion actor's representatives immediately released a statement saying, "He has done nothing wrong. We look forward to clearing his name and clearing this up."

Another Anti-Trans Policy Forced Virginia Students to Walk Out in Droves
On Sunday, this was followed by Majors' lawyer, Priya Chaudhry, claiming his innocence stating, "All the evidence proves that Mr. Majors is entirely innocent and did not assault her whatsoever. Unfortunately, this incident came about because this woman was having an emotional crisis, for which she was taken to a hospital yesterday. The NYPD is required to make an arrest in these situations, and this is the only reason Mr. Majors was arrested. We expect these charges to be dropped soon." This case has very quickly become a huge scandal, and there's a few things we need to clear up.
First of all, the woman's name has not been released and should not be until she decides to come forward or more facts are known. Unless there is clear cut proof otherwise, this is still an assault case and should be treated that way. The victim should be given the grace to heal from her injuries and process her ordeal.
Strictly from a business perspective, this situation couldn't have happened at a worse time. The actor is coming off of the back-to-back box office success of Ant-Man and the Wasp: Quantumania and Creed III. As Kang, he is set to be the centerpiece of Phase 5 of the Marvel Cinematic Universe. I imagine there were a lot of emergency phone calls and meetings at Marvel Studios over the weekend. If this is not cleared up quickly, Disney is going to have to make some tough decisions about Kang's casting. You only need to look at the non-stop criticism Warner Bros. has received for its continued support of Ezra Miller to see how this can negatively affect a film and franchise. Per AP News, he's already lost at least one job, as the U.S. Army has pulled an ad campaign featuring the actor.
As for Majors' reputation, stories are already starting to surface about him being difficult to work with. The Direct speculated on long-standing rumors in the Yale and New York drama communities that the actor is "a sociopath and abuser." At this point, unless his innocence is proven without a shadow of a doubt, he will be labeled an abuser forever. And if it turns out he is in fact guilty of these charges, he should be held accountable for his actions.
Since the internet is a hellscape with very little respect for women, it didn't take long for a lot of men to show their true colors. The same men who were just questioning Majors' masculinity and using homophobic slurs against him are now his biggest fans and offering him full-throated support. So when he was just an actor who was comfortable expressing himself in a non-traditionally masculine way, you guys hated him. But allegedly assaulting a woman proves his manhood, so now he's good? Do you understand that everything you're doing and saying is the literal definition of toxic masculinity?
As we've already seen in the short amount of time since Majors' arrest, this case is going to get messier before it's resolved. With race, fame and money involved there are no easy answers here, so it's important that everyone try to maintain some level of respect and decency as the situation develops.