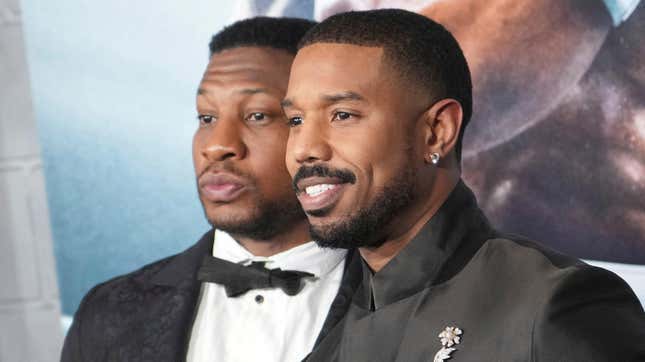 Dipset rapper Cam'Ron has found himself in hot water once again for running his mouth on social media. This time, Creed III stars Jonathan Majors and Michael B. Jordan were the targets of the Purple Haze artist. Over the weekend, Cam'Ron—for reasons unknown—posted two black and white photos of the actors. Underneath the picture, the caption read: "The reason I didn't go see creed."
Hillary Clinton on the Importance of Prioritizing Joy
Many read his words as an attempt to degrade the close friendship Majors and Jordan proudly boast and called out his ignorance in the comments. The playful photos, published last month in a story by The New York Times, received an onslaught of homophobic reactions that rejected the notion of two Black male actors displaying any sort of affection.
Ironically, in the late 1990s and early 2000s Cam'Ron infamously rocked the color pink which quintessentially challenged gender roles and expectations in hip hop. DJ, songwriter and educator Skillz posted a reply to the rapper's problematic assertion and said how many people felt:
"We are our own worst enemies smh. I tell all my homies I love em…Why? Cuz I do! Sometimes it throws em off but Ion care, Ima keep saying that ish. Tomorrow aint promised. We all getting older man & death is definitley certain. Its already hard enough out here for black men as it is bro. You cant even show love or accept it without your own trying to make it out to be something else. I [don't] know Micheal B Jordan but I know losing Chadwick was hard on him….cuz shit it was hard on all of us."
He continued:
"We clowned that man before he died not even knowing how sick he really was. Maybe Jonathan came into Mikes life when he needed a friend…a bro. How come men cant have healthy relationships with other men without [their] masculinity or sexuality being questioned? I put up a post last week saying 'Black men its ok to smile in your pictures' and got nothing but dudes saying 'naaah Ion do that ish Skillz' You [don't] do what? Smile? You [don't] see nothing wrong with that? Maaan the times we living in goofy af."

It's disheartening that Cam'Ron has chosen to use his platform to make fun of Black folks—especially when he knows firsthand the scrutiny and hatred that Black men have always faced. The hypocrisy the emcee brazenly shows off seems like nothing more than a ploy to remind the world of his masculinity—only this time it backfired.