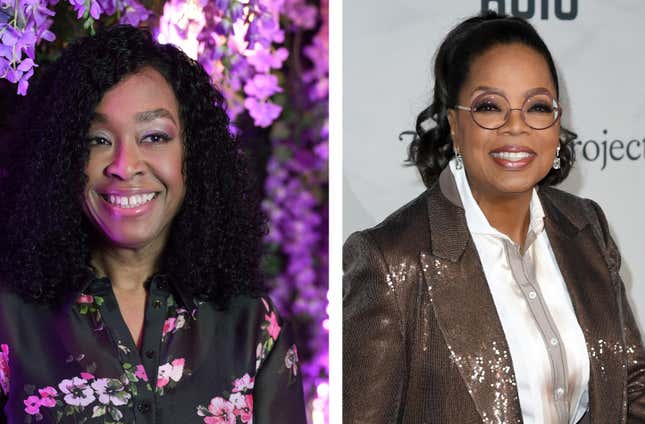 In terms of diversity and inclusivity, Hollywood has improved. However, when you hear about how hard it was to get The Woman King made, or see the disrespectful statements made about Black women during awards season, it's clear that there's still a long way to go. The good news is, there's a talented group of artists and producers actively working to create a less closed off environment in front of and behind the camera. The Hollywood Reporter celebrated some of these creatives on its "Raising Our Voices: Hollywood's 50 Forces for Change" list. While notable names like Spike Lee; Ryan Coogler; Tyler Perry; and Jordan Peele are highlighted, it's particularly exciting to see so many powerful Black women showcased. We need to take a moment to discuss a few of these amazing bosses.

Oprah And Michelle Obama in The Light We Carry Is Our TV Pick This Week
Oprah Winfrey
Oprah built the foundation that we all stand on. She transitioned from news anchor to the world's most influential talk show host, while also becoming an in demand actress. Through The Oprah Winfrey Show she launched multiple careers, including, Dr. Phil and Iyanla Vanzant. After the show ended, she used her production company to shepherd projects like The Great Debaters; Precious; Selma; and Queen Sugar. And of course, she launched her TV network, OWN, which provided countless opportunities for Black writers, directors and actors.
Ava DuVernay
If we're discussing someone who opened doors for others, we have to highlight Ava DuVernay. Through seven seasons of Queen Sugar, she only hired women directors, many of whom have gone on to work on big franchises and acclaimed TV series. There's a hierarchy in the business where you can't get certain jobs without a specific kind of on set experience. However, if you're a woman or person of color, it's extremely difficult to get through the door to those directing gigs. Providing women with the opportunity to direct a long-running series gave them the experience they needed. The show also featured countless people of color working behind the scenes in several departments, giving them the chance to showcase their skills.
Shonda Rhimes
With the diverse casts featured on her hit series Grey's Anatomy; Station 19; Scandal; and Bridgerton, Shonda Rhimes shows how easy it is to create an inclusive world. It doesn't have to be a difficult decision, just broaden your worldview to understand that not every doctor in the hospital needs to be white. It's perfectly OK to have Black people in a Regency era romance. It's also crucial to have different viewpoints behind the camera, so these diverse worlds feel authentic. Shonda's series may be outrageous and over the top, but they feel more like the real world we live in than most shows on TV.
Issa Rae
If you thought Issa Rae was done changing the game after Insecure ended, you were very wrong. She introduced us to a funny, interesting new world in Rap Sh!t, she's taking on a childhood classic. Not only is Issa playing one of the many star-studded dolls in the summer movie Barbie, she's President Barbie. I would totally vote for her. Plus, she's breaking ground in the superhero world as Jessica Drew/Spider-Woman in Spider-Man: Across the Spider-Verse. She voices the genre's first pregnant superhero. Issa always seems to be involved in something interesting and fresh.