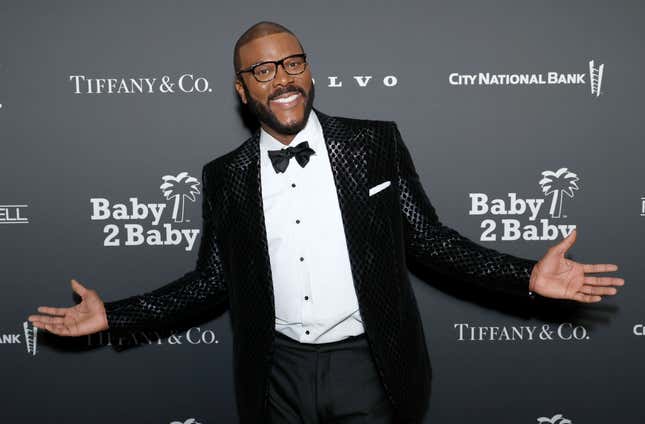 As media conglomerates continue to enact major reorganization plans, Paramount Global is making a big change to its investment in Black audiences. On Monday, news broke that the corporation is looking to sell its majority stake in BET Media Group. And it looks like the long-running cable network will become the subject of a bidding war, as two of the biggest names in entertainment are looking to buy it. Variety has confirmed that filmmaker Tyler Perry is "in talks to acquire the network," and the media mogul Byron Allen is "interested in buying BET, and he will be pursuing the acquisition of the network."

A Black Lady Sketch Show Is Our Black TV Pick of the Week
Perry in particular makes a lot of sense because he already owns a minority stake in the media company, which includes BET and VH-1. Plus, anyone who's watched BET in the last few years knows his TV series are the cornerstone of original programming on BET and its streaming service, BET+. Frankly, it's the Tyler Perry Network, as his movies frequently air throughout the day on the channel.
No matter who ends up buying BET Media Group, I really hope it leads to a fresh start for the network. Since Paramount acquired it, it's become a shell of its former self. The majority of the time, it's just extra-long versions of movies we've all seen a million times. There's no actual programming geared toward drawing interest from Black audiences. I may love watching Love Jones, but I don't need a three-hour version that's basically all commercials. I also don't need to see the same movies recycled over and over all week long.
Imagine a world where instead of endless airings of Madea movies, we got Black-centric versions of House Hunters; Love It or List It; Chopped; Diners, Drive-Ins and Dives; Say Yes to the Dress; The Bachelor; America's Got Talent and more. Personally, I'd love a Guy's Grocery Games set in a Black supermarket. Once upon a time, BET aired HBCU football. It would be great to see the network once again highlight HBCU athletics. Bring back Video Soul and 106 & Park! Those would be amazing opportunities to showcase up-and-coming R&B and hip-hop artists. And while we're at it, let's get some children's programming that makes our kids the heroes, princesses and stars of the show.
If BET Media Group is under new ownership, maybe we'll finally get to see the network move beyond its underwhelming, ordinary schedule. Right now, there's nothing to set it apart from its sister channels CMT, MTV and Paramount Network, which might be the biggest problem it has. The whole point of BET was for us to have a place that spoke to and entertained Black audiences. If it blends in with similar networks, it's not serving that purpose.