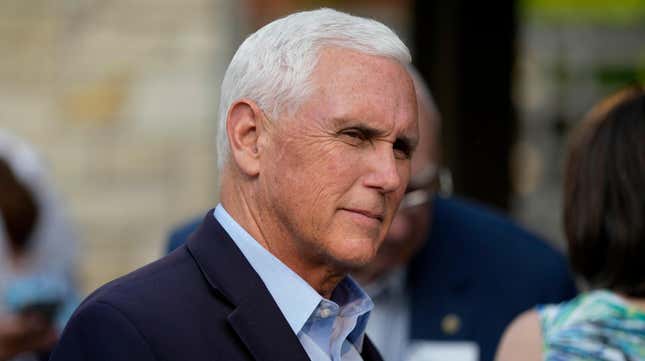 Candidates in the 2024 race for President just keep worse. On the heels of Ron DeSantis' failed Twitter announcement for his White House bid courtesy of Elon Musk, former Vice President and Donald Trump's right hand man-turned-foe Mike Pence plans on throwing his hat into the ring as well.
Small Town Horror: The Story of Fred Hampton's Premeditated Murder
Pence plans on officially making the announcement in Des Moines, Iowa on June 7 since the state is vital in securing the nomination. A source familiar with the matter says: "We view this race as absolutely wide open, and Iowa is really going to solidify itself as the pivotal player. It's a place that values Mike Pence's principles — traditional conservative principles — deep-rooted faith and uncommon character."
In addition, the former Indiana governor and six-term congressman will campaign in all 99 Iowa counties prior to the caucuses, the source stated, because this rigorous campaigning "will do the things that put Mike Pence in an advantageous position."
Pence would be in company with Trump, DeSantis, Sen. Tim Scott (R-S.C.), former U.S. ambassador to the United Nations Nikki Haley and former Arkansas Gov. Asa Hutchinson vying for the Republican nomination. For Democrats, Biden announced his bid for re-election in April, with only author Marianne Williamson and Robert F. Kennedy Jr. challenging him for the nomination.
Pence has publicly dissented from Trump and earlier this year stated that the former president "let me down" during the Jan. 6, 2021, attack on the U.S. Capitol. Pence wanted to Trump to acknowledge that the 2020 election wasn't stolen and that the insurrection was violently dangerous.
However, Pence downplayed the severity of Covid, is anti-abortion, worked to defund Planned Parenthood, called global warming a "myth," believes gun rights should not be infringed upon and supported a "zero-tolerance" policy for immigrants. The GOP will continue to ruthlessly run on hate this election cycle—Pence is merely an extension of this.