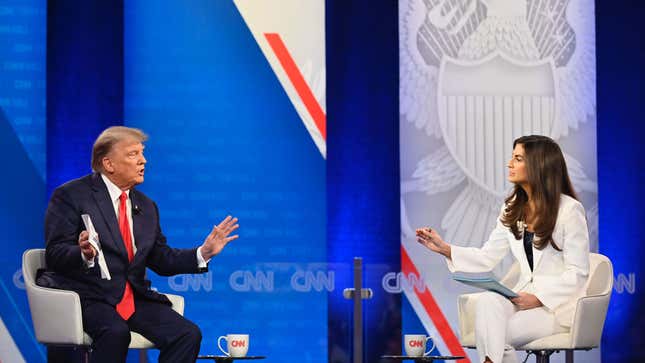 Donald Trump's New Hampshire town hall aired last night on CNN and was the debacle everyone assumed it would be. Even though the one-hour special was an obvious ratings grab (Trump hasn't appeared on the network since 2016), the former president never should have had the opportunity to repeatedly lie on the news channel. Host Kaitlan Collins was selected to moderate the event.

Donald Trump Might Actually Face The Music For His Alleged Hush Money Schemes
The selection of Collins was a strategic move by CNN, as she haplessly addressed Trump as Mr. President throughout the event and never really pushed back on any of his false assertions. The leading candidate for the 2024 Republican presidential nomination doubled down on the lie that he was the true winner of 2020 election stating that "millions" of votes were illegal.
Trump commented: "Unless you're a very stupid person … most people understand what happened was a rigged election." He also defended the January 6 insurrection at the Capitol, showing empathy to the white extremists who participated. "They were there proud. They were there with love in their heart. That was unbelievable and it was a beautiful day," Trump remarked.
He also said that if he was elected president again, he would pardon most of the people convicted for their roles in the attack. The town hall took place just one day after Trump was found liable for sexually abusing E. Jean Carroll nearly 30 years ago by a New York jury.
The victim was awarded $5 million in damages. Despite the outcome and a photo of Trump and Carroll together, he insisted to Collins that he has never interacted with Carroll. "I don't know her. I never met her. I had no idea who she is." Trump also mocked Carroll, called her a "wack job" and said her claims are "a fake story."
Trump also defended his infamous "Access Hollywood" video comments, saying women did let him grab them by the genitals because he's famous ("I can't take that back because it happens to be true," he explained). He also spoke about abortion and claimed that those who support it want to "kill a baby" in the ninth month of pregnancy or even after birth.
In addition, Trump called Russian President Vladimir Putin "a smart guy," couldn't remember if he shared classified documents as president (his response to the question was "Not that I can think of") and labeled Collins as "nasty" when she attempted to challenge his rhetoric.
In short, a news network giving Trump a platform to allow his lies to go unchecked is dangerously reminiscent of his tumultuous campaign days. CNN has been accused of trying to emulate Fox by making conservatives more comfortable by altering their programming.
Their decision to let Don Lemon go last month reignited this belief and giving Trump unchecked air time simply reaffirms it. CNN was wrong for dressing up hateful propaganda as a favor to their viewers. Their latest stunt signals what Americans are in store for when it comes to the 2024 presidential election.