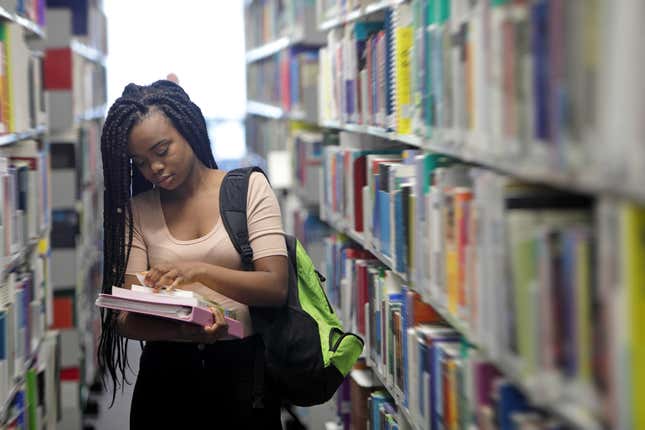 Florida Governor Ron DeSantis has a no-days-off policy when it comes to dismantling protections for marginalized people. On Monday, he signed a bill that bans public colleges and universities from spending money on diversity, equity, and inclusion programs.
Small Town Horror: The Story Of A Teacher Driven From Her Job By An Anti-CRT Group
DeSantis' efforts to financially starve diversity programs into oblivion are just one part of his plan to ban any acknowledgment of racism in Florida. Earlier this year, The Root wrote about the conundrum for textbook manufacturers serving the sunshine state who, as a result of DeSantis' policies, had to figure out how to write about Rosa Parks without mentioning racism.
But before we get too deep down the DeSantis rabbit hole, here are the three things you need to know about this anti-DEI law:
What Gets Cut Under The New Florida Bill?
The law bans schools from funding programs or activities that "advocate for diversity, equity, and inclusion or promote or engage in political or social activism." Although the details on which programs fall under that category are maddeningly vague, it's safe to assume that programs working to recruit staff and students from marginalized backgrounds are on the chopping block.
In March, The Root's Angela Johnson wrote about whether Black Greek Organizations would be defunded. And the answer is still somewhat unclear. Republicans have promised they wouldn't be impacted and included a carve-out that allows student-led diversity organizations to be supported by student fees. However, that's not a guaranteed protection against an individual or a university trying to weaponize the law against Greek organizations. The bill would also put affinity groups, like the Black Student Union, at risk.
How Would This Impact Teaching About Race in College?
The bill does more than ban diversity initiatives; it also limits what can be taught in the classroom. The law prohibits schools from offering courses that are a part of the general education curriculum that "distort significant historical events, teach "identity politics" or "are based on theories that systemic racism, sexism, oppression, or privilege are inherent in the institutions of the United States and were created to maintain social, political, or economic inequities."
As we've already seen with the Florida K-12 debacle, these types of restrictions make it almost impossible to meaningfully discuss the reality of racism in the United States. And while this doesn't ban all classes on "identity," it dramatically limits the population of students who can/will take them.
This Isn't Just a Florida Problem
Despite the (warranted) focus on DeSantis, this isn't just a Florida problem. Throughout the United States, Republicans are waging war on college diversity programs. The Associated Press tracked 30-plus bills targeting DEI at the undergraduate level. In Texas, state lawmakers introduced legislation similar to the one in Florida. The Root wrote about the law last month;
Under this legislation, schools couldn't implement any policies or training that reference race, color, ethnicity, gender, identity, or sexual orientation. So that means schools couldn't provide any trainings or programs that acknowledge the lived reality of Black students on predominantly white campuses. It would also mean schools couldn't train faculty on how to handle racist, homophobic, or sexist bullying. Because under the world imagined in the heads of the people who drafted this model, none of those issues exist.
It's clear that efforts to erase the experiences of marginalized communities from our education system aren't slowing down anytime soon.