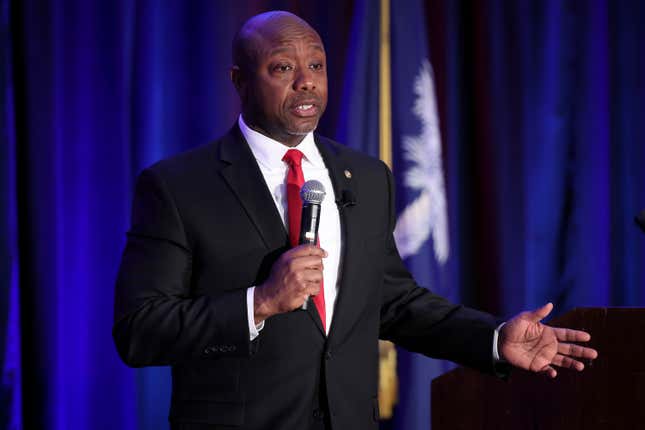 Updated as of 5/22/2023 at 1:15 p.m. 
It's official! Senator Tim Scott just launched his campaign for President, joining a crowded field of Republican hopefuls battling it out for dominance against frontrunner Donald Trump. But who exactly is Scott, and does he have what it takes to win?
The Week C-SPAN Became Must-See TV
Scott is a United States senator from South Carolina.
When he looks in the mirror, he sees a president. When the few Black Americans who know who he is look into that same mirror, some see Samuel L. Jackson's character from "Django Unchained."
Harsh? Perhaps.

But most Black Americans take a dim view of those from their race who stand tall and proud in a Republican Party that has opposed civil rights laws, made voting more difficult and is currently on a crusade to outlaw diversity and inclusion policies.
Clarence Thomas ain't welcome at the cookout. Neither is Scott, who has formed a presidential exploratory committee and is expected to formally announce a run for the White House later this month.
His is not a household name now, but Scott, 57, is perfectly placed for national prominence. If the Republican Party's 2024 nominee is someone not named Donald Trump, Scott will almost certainly be on the short-list for the VP slot.
Trump, toxic to many suburban white women, would benefit from running with a woman who would at least try to sell him to voters as someone other than a boorish rich guy who feels entitled to grab women by the genitals.
Other white GOP nominees, however, would love to run with a Black man from the South who - despite centuries of slavery, lynchings and Jim Crow - gleefully tells white voters what they want to hear: that "America is not a racist country," as he said in 2021 when he gave the Republican Party's response to President Joe Biden's first State of the Union address.
For white GOP nominees, Scott would serve as a shield, blocking descriptions of the party as racist. "See? I can't be racist; I'm running with a Black guy!"
Scott's biography is central casting-perfect for such a role.
Born in North Charleston in 1965, Scott was raised in challenging financial circumstances by a single mother. He attended a pair of Christian colleges, Presbyterian College and then Charleston Southern University, which is affiliated with the South Carolina Baptist Convention.
That Scott attended religious schools is in keeping with an essential element of his biography - his religious faith.
Scott has touted his faith throughout his political rise, which saw him go from Charleston County Council member to stints in the South Carolina House and U.S. House and then to the U.S. Senate, where he has served since being appointed to the position in 2012.
In 1997, when he was a member of the Charleston County Council, Scott backed having the Ten Commandments placed outside council chambers.
Then, as now, Charleston is a place of broad diversity and is home to people of the Christian faith, many other faiths, and no religious affiliation at all. But Scott supported having commandments of HIS faith posted outside the chambers of a body that represents the county's range of residents.
Predictably, the county was sued and ultimately settled the case to avoid paying more legal fees. Scott, though, had no qualms about having taxpayer money spent on the stunt.
"Whatever it costs in the pursuit of this goal is worth it," The Augusta Chronicle quoted him as saying.
That type of in-your-face religiosity is pure Scott and is part of his appeal to some GOP voters. It might even help Scott make a dent among some Black voters, many of whom are culturally conservative and agree with the senator's opposition to abortion rights and same-sex marriage.
Black voters, though, won't appreciate another aspect of Scott's political career - notably that he has been doggedly obtuse when it comes to race.
He says he has been the victim of law enforcement harassment and racial profiling, but he has opposed government efforts to limit the potential impacts of racial discrimination.
When the U.S. Department of Justice sued Charleston County because its council seats were based on at-large districts and not on smaller ones that would give Black voters a better chance of having one of their own elected, Scott complained, saying he didn't like the idea of "segregating everyone" into smaller districts. DOJ ultimately won that case.
In the Senate, he refused to joined the Congressional Black Caucus.
"While I recognize the efforts of the CBC and appreciate their invitation for me to caucus with them, I will not be joining at this time," Scott said in a statement. "My campaign was never about race."
When Trump said there were was blame on "both sides" after a white motorist killed a woman protesting against a Ku Klux Klan and white supremacist rally in Charlottesville, Scott met with the president.
Scott's criticism of Trump was mild, and images of his post-Charlottesville meeting with Trump gave the embattled president political cover.
There have been moments when Scott opposed his party on race.
For generations, Republicans in South Carolina had refused to consider removing the Confederate flag from its perch in front of the state capitol. But after a flag-loving white nationalist murdered nine Black people in a Charleston church, Scott joined calls for the flag's removal.
Scott opposed the nomination of a judicial candidate, Thomas Farr, who had sought to suppress Black votes to help Jesse Helms, the bigoted North Carolina senator for whom Farr once worked.
Scott supported efforts to make lynching a federal hate crime, and in the aftermath of George Floyd's murder, he introduced police reform legislation.
But Scott's Democratic colleagues in the Senate said that legislation did not go far enough, and it did not get enough votes to pass the chamber.
Nonetheless, Scott sees himself as a viable candidate for the White House, one whose personal story and religious faith sets him apart.
"Our family went from cotton to Congress in one lifetime," Scott said in announcing his exploratory committee. "And that's why I believe the next American century can be better than the last."
Wayne Washington is an investigative journalist based in Florida.