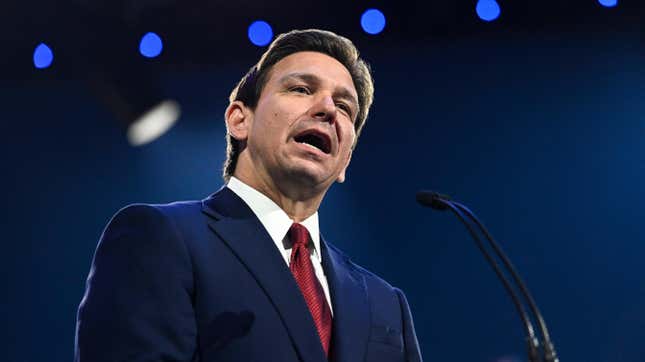 It's been anticipated for months that Florida Gov. Ron DeSantis would make a bid for the White House in 2024. For some reason, he believed that announcing the news on Twitter would be an effective strategy. If DeSantis was hoping it would be an unforgettable move, it absolutely was—but for all the wrong reasons.
Small Town Horror: The Story Of A Black Teen Attacked By A "Missile"
On Wednesday afternoon, DeSantis filed his presidential paperwork with the Federal Election Commission, which officially makes him a candidate. Originally, the plan was for the politician to sit beside Twitter CEO Elon Musk and moderator David Sacks to share these plans.
However, the live audio event—which took place on Twitter Spaces—was a disaster from beginning to end. It only lasted for 20 minutes and was riddled with technical difficulties. The entire broadcast was full of crashing and echoes before suddenly ending. Quite frankly, it was a taste of karma for DeSantis.
He has repeatedly stated that as President, his leadership will provide the United States with competency and control—characteristics he called the opposite of Trump. However, this failed stunt simply reiterates his incompetence.
Sacks tried to glaze over the problem by saying "we've got so many people here that we are kind of melting the servers, which is a good sign." Though the session was short, DeSantis—who has worked to literally erase Black history, voting rights and diversity initiatives in the state of Florida—continued to double down on hate.
While bolstering his record as governor by stating "our results in Florida have been second to none," he claimed the Biden administration has "allowed woke ideology to drive his agenda." DeSantis said he plans to undo Biden's policies and that it's crucial for the GOP to once again control the Oval office.
"You can't do any of that if you don't win; there is no substitute for victory. We must end the culture of losing that has infected the Republican Party in recent years," DeSantis said. He also discussed the need for America to maintain "law and order" and called "gender ideology and pronouns" in the military "distractions."
DeSantis also emphasized the need to police the border. "Voters who are participating in this primary process, my pledge to you is this," DeSantis stated during the event. "If you nominate me you can set your clock to Jan. 20, 2025 at high noon because on the west side of the U.S. Capitol I will be taking the oath of office as the 47th president of the United States.
"No excuses, I will get the job done." Sadly, this disaster won't deter DeSantis from continuing to campaign his hateful agenda, but it was definitely memorable to say the least.