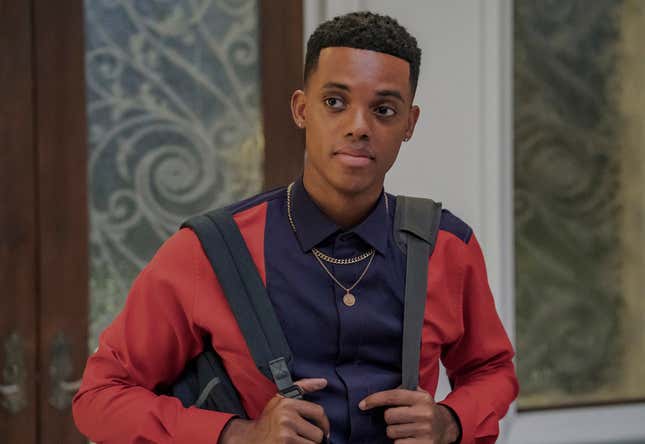 If you're having as much fun as we are with Peacock's Bel-Air, then I've got some really good news for you: The streaming network has renewed the hit drama for Season 3. The news was announced in a video featuring the cast enthusiastically throwing up three fingers.

Bel-Air Season 2 has been a fantastic return to the original series' fun tone. While the show is still a dramatic reimaging of a sitcom, it has moved past the overly serious world-building we needed to go through in the first season. Season 2 of the series finds Will and Carlton finally embracing the brotherhood we all love, and it really helps grow the characters and the show. Ahead of its second season premiere, star Jabari Banks spoke to The Root about their relationship.
"That Will and Carlton dynamic duo, that's something that I love from the original. That's like the heart of this show, in a sense, and I love that dynamic, and I love that we got to play that," Banks told The Root. "They are two vastly different people from different upbringings. And they learned how to love each other. I think that's something that we can all relate to and appreciate."
From Hillary and Jazz's romance, to Phil and Geoffrey's fractured friendship, to Vivian reclaiming her art career, Bel-Air has really found its voice in Season 2. Since the show has barely scratched the surface of The Fresh Prince of Bel Air's many fascinating characters and stories, it will be interesting to see what we get in Season 3. I understand that some of the original's more ridiculous episodes don't translate to Bel-Air's tone, but there are definitely some moments that can be recreated. The house getting trashed in a video shoot, Ashley's singing career, and Vivian's complicated relationship with her sisters are all things that should be explored in this drama.
 Bel-Air is now available on Peacock.