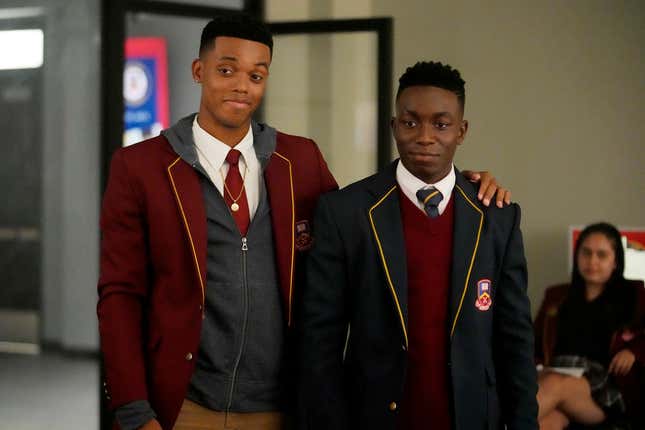 If there's one major problem with the first season of Bel-Air, it's that the show lacks the light-hearted fun of the original. I understand that it's a dramatic retelling of a sitcom, but it was missing some of the special charm that made The Fresh Prince of Bel-Air a classic. Well fans of the breakout hit can rest easy because the series has rediscovered its comedy roots in Season 2, which premieres Feb, 23 on Peacock.

Kerry Washington Talks Shonda Rhimes, Scandal, & Motherhood | Securing the Bag: Part 2
After the shocking revelations about his father, Will finds himself in a difficult place. Luckily, he and Carlton are now on the same page, so they have each other to rely on. While I understood the need for their adversarial relationship in Season 1, it never really felt right. But, that all changes in Season 2, as Will and Carlton are ready to take over Bel Air. Jabari Banks and Olly Sholotan, who play Will and Carlton respectively, spoke to The Root about how much fun they're having with their characters' new relationship.
"That Will and Carlton dynamic duo, that's something that I love from the original. That's like the heart of this show, in a sense, and I love that dynamic, and I love that we got to play that," Banks told The Root. "They are two vastly different people from different upbringings. And they learned how to love each other. I think that's something that we can all relate to and appreciate."
Sholotan is excited to bring some of the charm of the original series into the Bel-Air world. It's clear he and Banks are having a lot of fun playing the lighter side of Will and Carlton. And honestly, with so much going on in their lives, the characters only get to let loose and be teenagers when they're hanging out with one another.
"Will and Carlton have [been through] this huge journey as these newly found brothers, and throughout the entire first season you saw them sort of struggle to reconcile their differences. But now they found that they're more similar than they are different, right? And so in season two, we really get to explore the fun and the shenanigans that's kind of reminiscent of the original series," he said. "It was just a gift to get to hang out with Jabari in that way because we like each other so much. All throughout the first season we'd have to show up to work and fight. Now we kind of get to actually have fun a little bit."
The scenes between Will and Carlton also allows Sholotan an opportunity to show his character's more relaxed side, something he hopes viewers will connect with.
"I just love that as the season goes on, as the series goes on, we're gonna get to show all of these different corners in Carlton's mind," he said. "That's one of those really cool, special moments that the audience gets to be like, 'Yo, he's kind of cool. I like him.'"
Bel-Air Season 2 premieres Thursday, Feb. 23 on Peacock.