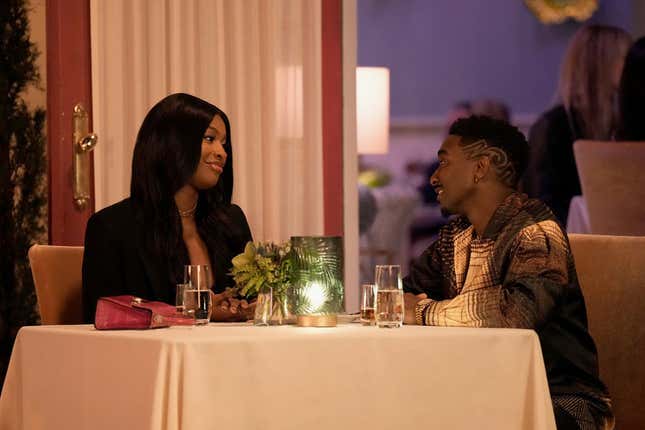 One of the coolest things about Bel-Air is how it reinvents notable moments from the original series. This is showcased brilliantly in the relationship between Hillary and Jazz. As you'll recall, in The Fresh Prince of Bel-Air, he was obsessed with her, while she didn't have the time of day for him. The Season 2 premiere of Bel-Air twists that on its head, as the two are now in a sweet committed romance. In the midst of all the Banks family drama, the series makes time to highlight the fun of their "opposites attract" relationship. Coco Jones and Jordan L. Jones spoke to The Root about how their relationship adds a new element to the drama's ongoing stories.

Small Town Horror: The Story of a Food Network Star Turned Killer
"I believe in Black love and I felt like it was a great platform," Jordan told The Root. "Obviously, in the original, Hillary and Jazz were the opposite. They never got together or anything. So I love this, the switch."
Another major difference from the OG comedy is that Jazz takes life much more seriously. He's an old soul who is a grounding presence in both Hillary and WIll's lives. He allows Hillary to see past her Bel Air bubble, while also reminding Will that life isn't necessarily black and white.
"I'm always the one giving Hillary advice…giving Will advice," he said. "But what's going to be so exciting in Season 2 is you'll see certain differences within Jazz because he might be smooth and calm and collected when he's giving advice, but when he's going through something himself, does he take his own advice? I'm excited for the viewers and the fans to see how that unfolds."
The romance allows Coco to show a lighter side of Hillary's personality. It adds depth to her character, who wasn't given nearly enough to do in the first season. In addition to her romance with Jazz, Hillary is also taking charge of her career. All of these developments have made her one of the most interesting parts of Season 2.
"I was excited that Hillary and Jazz get to be in love. I think that's a fun side of Hillary. And it's a fun switch up, because in the original Fresh Prince, Jazz was never considered an option," Coco said. "So I love that. The fans were really excited to see me and him and our chemistry. And me and Jordan L. Jones, who does play Jazz, we do get along so great. So it's really fun to continue that dynamic and have that chemistry really relayed on screen. I think the fans are gonna love it. And because it's drama, and this is Bel Air, they're gonna go through a couple different emotions while watching me and Jazz and our relationship."
Bel-Air Season 2 is available to stream on Peacock.