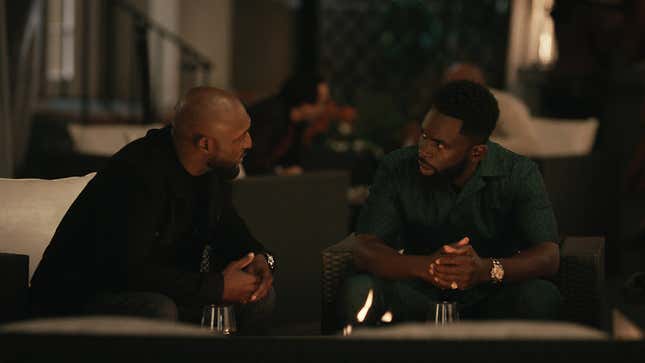 One of the most shocking developments to come out of the surprise appearance of Will's father at the end of Bel-Air Season 1, was the split between Phil and Geoffrey. After Geoffrey revealed the truth about Will's father, Phil told him he overstepped his bounds and fired the Banks' house manager. In Season 2, Phil is on a journey to repair his fractured relationships, but that may be easier said than done. Bel-Air stars Adrian Holmes and Jimmy Akingbola, who play Phil and Geoffrey respectively, spoke to The Root about how the two men are navigating the new parameters of their friendship.

Courtney B. Vance in Heist 88 Is Our Black TV Pick of the Week
Throughout Season 1, we saw how close the men were. They were brothers who knew each other's secrets. From the first episode it was made clear that Geoffrey was part of the family. This is why Phil treating him like he was just an employee hurt so deeply. Even if they reconcile, Akingbola isn't sure it can ever be the same.
"That relationship is in danger of not being repairable. So throughout Season 2 you're gonna see if it does get repaired," Akingbola told The Root. "I feel that there's gonna be a lot of real talk, growth, healing, but also a little bit of tension, which is good. I think for Geoffrey this season…we're gonna get a small, slight opening into his history and his backstory. But, the mystery is under lock and key. You're not gonna find out everything this season."
Holmes thinks the friendship can be salvaged, but it's going to take a lot of hard and uncomfortable conversations. The duo are going to have to figure out how to work past their male egos and find a place of understanding.
"There's a lot that we left you with at the end of the first season, a lot of things that need to be repaired and a healing, a restructuring. As for the brotherhood between Geoffrey and Phil, they're like each other's right arm, and it takes some time for us to really understand this importance," Holmes said. "We realize when we're alone now how much we miss each other, but when we're together…we're both strong men and there's a bit of a battle there. But underneath it, that love and that sense of family is very strong. And this season you'll see how we navigate that and get to a place where we become brothers again and get back to where we were, and how long it takes."
The mystery surrounding Geoffrey's past is one of the show's most fascinating storylines. I understand that we can't get more details until the longtime friends work through their current issues, but I'm gonna need them to hurry up and let me know if Geoffrey used to be a spy. Or a criminal, or an interesting combination of the two?
Bel-Air Season 2 is available to stream on Peacock.