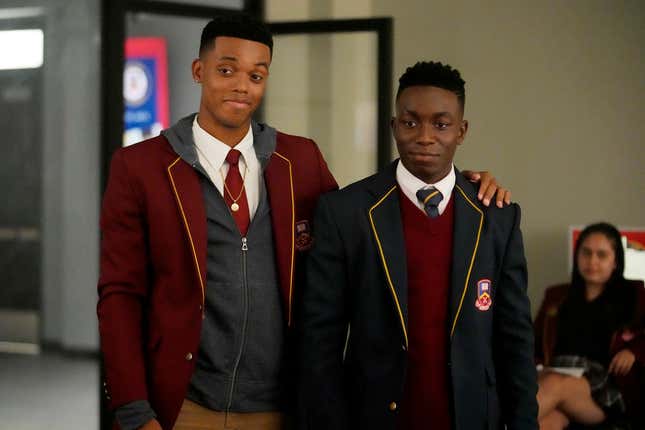 If you've been watching the second season of Bel-Air, you've noticed a change in Carlton. He and Will have finally become the best friends and brothers we expect them to be, and it's had a calming effect on Carlton. He's been able to cut loose and actually be a teenager for once. Of course, that doesn't mean he's not still ambitious and goal-oriented.
Tackling A Black Maternal Health Crisis & Embracing Reproductive Justice | The Root Institute
In an exclusive clip from Episode 3, "Compromised," the unexpected firing of an influential Black teacher leads the Black Student Union, led by Carlton, to plan a walkout.

Olly Sholotan, who plays Carlton, told The Root that he enjoys playing the lighter side of the character. He's also excited to bring elements of the duo's relationship from the original series into Bel-Air.
"Will and Carlton have [been through] this huge journey as these newly found brothers, and throughout the entire first season, you saw them sort of struggle to reconcile their differences. But now they found that they're more similar than they are different, right? And so in season two, we really get to explore the fun and the shenanigans that's kind of reminiscent of the original series," he said. "It was just a gift to get to hang out with Jabari [Banks, who portrays Will] in that way because we like each other so much. All throughout the first season we'd have to show up to work and fight. Now, we kind of get to actually have fun a little bit."
The opportunity to showcase this new side of Carlton is something Sholotan is really enjoying. He hopes it makes fans like Carlton a little more, rooting for him to find success and some well-deserved fun.
"I just love that as the season goes on, as the series goes on, we're gonna get to show all of these different corners in Carlton's mind," he said. "That's one of those really cool, special moments that the audience gets to be like, 'Yo, he's kind of cool. I like him.'"
Bel-Air Season 2 is available to stream on Peacock, with new episodes premiering every Thursday.