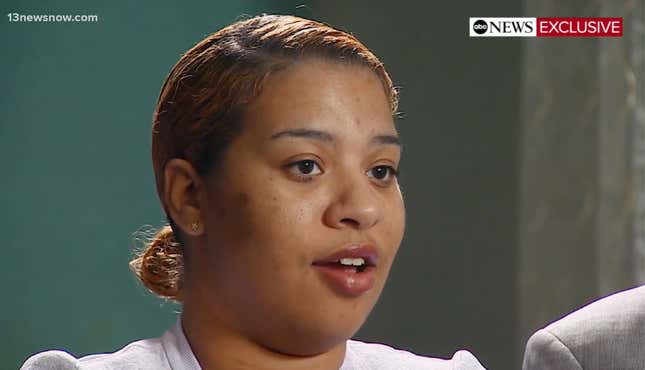 Updated as of 6/13/2023 at 10:00 a.m. ET

The mother of the 6-year-old boy accused of shooting and injuring his first-grade teacher pleaded guilty to federal charges related to the incident, per AP News. Even with the negotiated plea agreement, she faces prison time.
Kevin Johnson Executed By State of Missouri After Supreme Court Denies Appeal
Deja Taylor, 25, entered a guilty plea on accusations that she lied about her marijuana use on a form when purchasing the gun her son used in the nearly fatal Richneck Elementary shooting. During the investigation following the incident, the federal Bureau of Alcohol, Tobacco, Firearms and Explosives searched Taylor's home and found 24.5 grams of marijuana, the report says.
Prosecutors also said Taylor's record showed she was pulled over by local police in 2021, and authorities found marijuana cereal bars next to her son. Though, Taylor denied any knowledge of the drugs in the car in the courtroom.
Taylor's attorneys agreed to a plea agreement with the prosecutors that includes a sentence of 18 to 24 months in prison.

"Miss Taylor's role in this tragedy is a complete accident and a complete mistake," said attorney Gene Rossi. "She takes full responsibility for her son's actions and will feel guilt for the rest of her life."
It's unclear whose care the boy will be under once his mother is sentenced in October. However, she still faces state charges.
Previous Reporting...
Taylor previously entered a not guilty plea on felony charges of child neglect and a misdemeanor charge of endangering a child by reckless storage of a firearm. Taylor said in her first appearance following the incident that the firearm was stored securely in the top shelf of her closet with a trigger lock. However the boy somehow managed to obtain it and bring it to Richneck Elementary School on Jan. 6.

First grade teacher Abigail Zwerner said the boy stood up in the classroom while she was reading to the class and shot her through the hand and into the chest. Attorneys for Zwerner say school administrators were warned multiple times throughout the day about the student possibly having a firearm.
Now, Taylor's initial claim that her gun was legally purchased is being challenged in court.
Read more from 13NewsNow:
25-year-old Deja Taylor was charged with being an unlawful user of a controlled substance in possession of a firearm and making a false statement during the purchase of a firearm.

According to court documents filed Monday, Taylor made a false claim on the firearms transaction form she filled out when she bought a 9mm handgun in 2022. Section G of that form asks, "Are you an unlawful user of, or addicted to, marijuana or any depressant, stimulant, narcotic drug, or any other controlled substance?"

Prosecutors said Taylor lied when she answered no, and that she was actually a marijuana user.
Taylor's attorney, James Ellenson, issued a statement saying his client plans to plead guilty to the new charges. Ellenson told reporters Taylor suffered from postpartum depression following a series of miscarriages which led up to the shooting.
"The information was an agreed procedure which eliminated the need for the government to take the case to a grand jury," read the statement. "We intend to present mitigating evidence that we trust the Court will view favorably at sentencing later this year following preparation of a pre-sentence report."
If convicted on state charges, Taylor faces five to 10 years in prison. On federal charges, she will be forced to give up her firearm and ammunition.