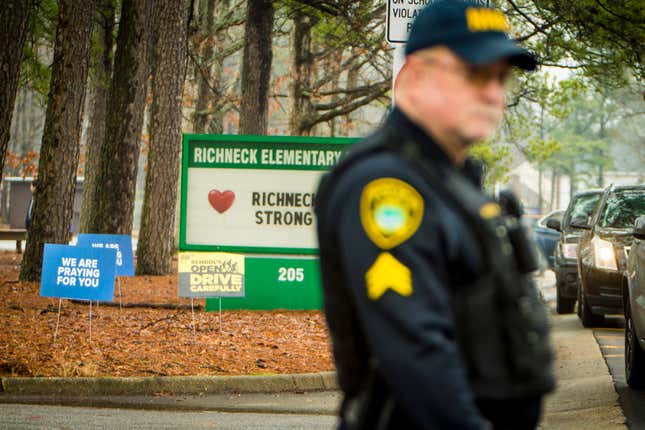 The 6-year-old Virginia student accused of shooting and injuring his first grade teacher Abigail Zwerner has a track record of violent behavior according to documents obtained by The Associated Press. The shooting wasn't the only bad run-in he's had with a teacher.

Kelly Rowland and Marsai Martin On Their New Film "Fantasy Football"
Zwerner's attorney Diane Toscano detailed multiple instances when staff were notified of the possibility of a firearm being in the school the day of the shooting. In one of those instances, the boy allegedly threatened to shoot one student. The warnings, though, were to no avail; staff were accused of doing "absolutely nothing."
Toscano has since filed a follow up notice of claim saying the student had shown a pattern of violent behavior toward both fellow students and teachers leading up to the day of the shooting, per AP. One incident documented the choking of a teacher at another district school the child attended before being moved to Richneck Elementary.
Read more about the document from AP News:
The choking incident described in the notice was confirmed by the teacher. She said that in 2021, the boy came up behind her as she sat in a chair in the front of the class, locked his forearms in front of her neck and pulled back and down, hard. She said a teaching assistant pulled the boy off her. She said she reported the incident to school administrators, but did not receive the kind of supportive response she had hoped for from them.

Two days before the shooting, the boy allegedly "slammed" Zwerner's cellphone and broke it, according to the claim notice. He was given a one-day suspension, but when he returned to Zwerner's class the following day, he pulled a 9mm handgun out of his pocket and shot her while she sat at a reading table, the notice says.
Reports say the boy was sent to a medical facility following the shooting for treatment. His parents said in a letter he suffers from an acute disability which caused him to be in school accompanied by a parent every day.
So where were they when these other incidents occurred?
It seems the school administration had plenty of opportunities to figure out how to keep the boy under control. Now, it's unclear what the Newport News school district plans to do moving forward; hopefully it's something that will prevent kids from putting their teachers in headlocks.
"The response from the school district is going to be very important and will shed light on how it views its teachers. I hope that the school district will not send a message that being shot while teaching a lesson in class by a student is merely a hazard of the job," said Toscano via AP.