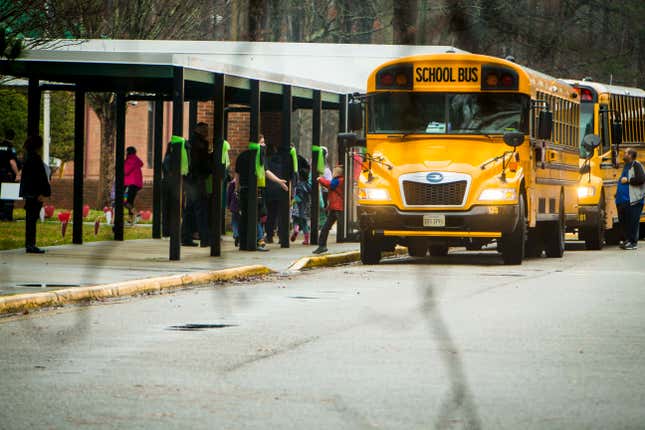 After first grade teacher Abigail Zwerner came out of the hospital, she and her attorneys filed a lawsuit against the Newport News school board and several officials who she claimed failed to prevent her 6-year-old student from shooting and injuring her. According to WRIC, attorneys for the school board are seeking to dismiss the suit.

Courtney B. Vance in Heist 88 Is Our Black TV Pick of the Week
The $40 million lawsuit names the school board, former Superintendent Dr. George Parker, former Richneck Elementary Principal Briana Foster-Newton and former Richneck Assistant Principal Dr. Ebony Parker. They are accused of gross negligence and reckless breach of duty. The suit claims the shooting was a personal attack against Zwerner and that the school administration had four warnings prior to the incident about the student having a gun but failed to act accordingly.
In response to the suit, the school board's attorneys are asking to dismiss the lawsuit by suggesting Zwerner's injuries can be compensated another way without demanding of legal damages. 
But is it her lawsuit really just about the money?
Read more from ABC 8 News:
Attorneys representing the school system and the former administrators filed a plea asking a Newport News Circuit Court judge to dismiss Zwerner's lawsuit Wednesday. They argued that Zwerner's injuries are covered under the Virginia Workers' Compensation Act because she was shot while doing her job. The law provides benefits for employees injured on the job, but prohibits them from suing their employers if they were hurt during the course of their duties.

"This is exactly why [Zwerner] strategically focuses on the use of a handgun as opposed to some other weapon with less perceived notoriety and shock value, even though serious injuries can be inflicted with scissors, knives, pencils, rocks, chairs, and hands," the school attorneys argued. "If the allegations in the complaint substituted 'sharp scissors' for 'gun' and [the student] stabbed [Zwerner] in the neck in the classroom, there would be no doubt that the injury would fall under Workers' Compensation."
In addition to their argument, the school board's plea includes a report from the U.S. Department of Justice's National Institute of Justice that found over half of teachers in the country experience student-perpetuated violence.
In a way, they reaffirmed the argument Zwerner's attorney previously made about the numbing effect of the rise in school shootings.
"That's what [the defense has] maintained up until today, that that is just part of the job, it's an assumption of the job, that a first grade teacher is going to be shot by their own student, a six-year-old. That is unacceptable. That's outrageous, and that's not what happened here," said attorney Diane Toscano to NBC News' TODAY.