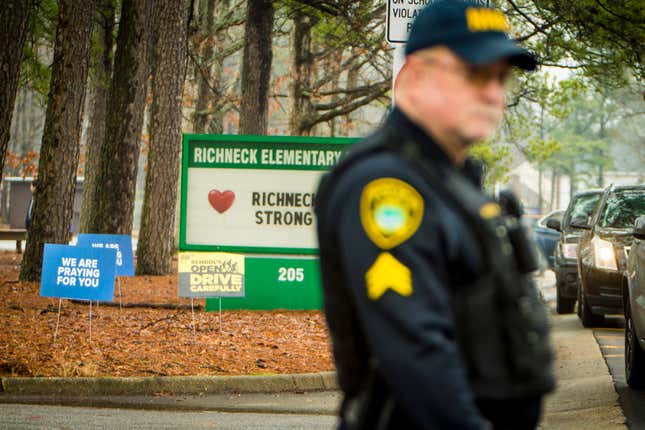 As we anticipated, Newport News teacher Abigail Zwerner has filed a lawsuit following her recovery from being shot and seriously injured by her first grade student, per The Associated Press. In her $40 million claim, she and her attorneys allege the boy's behavior has always been a red flag.

America's Got Talent Host, Terry Crews, Shows Full Gratitude For Writers On Strike
"We know for a fact that there were at least three opportunities for them to stop this from happening - At that point in time, you have a ticking time bomb in the school, and the school failed to do anything about it," said Jeffrey Breit to TODAY's Savannah Guthrie.
The suit accuses the Newport News School Board, several district officials and former Superintendent George Parker III of gross negligence, citing the three warnings about the boy on the day of the incident. As previously reported, the boy had his bag searched, teachers murmured of seeing him with a firearm and requests for a pat down went brushed off until he pulled out the 9mm handgun in class and fired at his teacher.
The 6-year-old's previous displays of violent behavior kept Zwerner in constant communication with the school board, but her warnings weren't taken seriously, the suit alleges.
Read more from AP News:
In the lawsuit, Zwerner's attorneys say all of the defendants knew the boy "had a history of random violence" at school and at home, including an episode the year before, when he "strangled and choked" his kindergarten teacher.

School officials removed the boy from Richneck and sent him to another school for the remainder of the year, but allowed him to return to Richneck for first grade in the fall of 2022, the lawsuit states. He was placed on a modified schedule "because he was chasing students around the playground with a belt in an effort to whip them with it," and was cursing staff and teachers, it says. Under the modified schedule, one of the boy's parents was required to accompany him during the school day.
The commonwealth's prosecutor decided not to charge the boy criminally. However, the question remains whether his parents should face legal punishment for not monitoring his access to the legal firearm.
Zwerner's Injuries
In her first public appearance since coming out of the hospital, Zwerner shared with TODAY's Savannah Guthrie that she was shot through the hand to her chest by her student. She underwent four surgeries and spent two weeks in the hospital. She said she may live permanently with the bullet fragments lodged in her upper chest, and she may not gain complete functions of her hand.
There's no doubt this tragedy was frightening, but this may have been the only school shooting this year that didn't end with a fatality. Just last week, a 28-year-old shot up a private elementary school in Nashville, killing three students and three faculty.
That could have easily been Zwerner and her students.
For that reason, Zwerner's attorneys are pushing hard to get justice for the Richneck Elementary teacher. No teacher should work in fear of their life.
"That's what [the defense has] maintained up until today, that that is just part of the job, it's an assumption of the job, that a first grade teacher is going to be shot by their own student, a six-year-old. That is unacceptable. That's outrageous, and that's not what happened here," said Diane Toscano to TODAY.