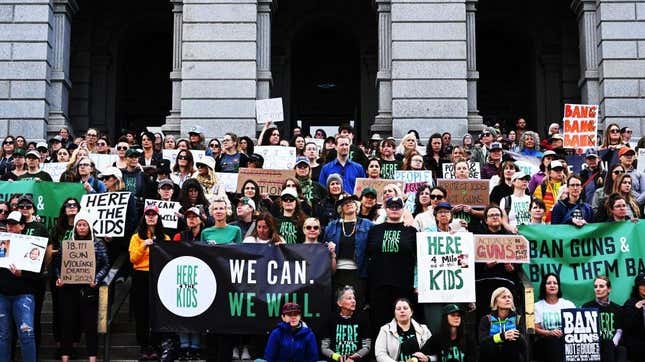 On Monday morning, hundreds of white women went to the Colorado Capitol to use their privilege for good and stage a silent sit-in protesting gun violence. Their hope was to force Gov. Jared Polis to ban guns and start a gun buyback program. Unfortunately, this method just simply won't work.
Tackling A Black Maternal Health Crisis & Embracing Reproductive Justice | The Root Institute
Their actions comes two months after Polis signed into law four gun control bills, including one that would widen Colorado's red flag law which allows police, family members or a household member to petition a judge to temporarily take a person's firearms if they are deemed a risk.
Though the laws Polis approved would raise the age requirement for owning a gun and establish a minimum waiting period for gun deliveries, this isn't enough. Here4TheKids was a a movement created after a mass shooting in Nashville in March left six people dead, including three children.
It called for mostly white women to stage a sit-in until Polis—who is a Democrat—signs an executive order banning guns. The women who founded Here4TheKids, Saira Rao and Tina Strawn, are people of color. Strawn, who is Black, say that white women need to be front and center because their voices will actually be heard.
"We know what happens when [Black people] show up in large numbers to fight for our rights. We've been doing it for generations. We're always the ones whose bodies are in the most danger and at the most risk," Strawn said on the "Speaking of Racism" podcast. She is correct in her assessment, but as we seen over the last two decades, America will choose to prioritize the right to bear arms over human lives—regardless of race.
So far, there have been a minimum of 276 mass shootings in the United States this year, which means there will be more shootings than days in a year. Colorado has been subjected to several, including the infamous Columbine High School shooting in 1999 as well as a shooting at a LGBTQ nightclub in Colorado Springs in November.
Despite the outrage over gun violence—which has made it unsafe for Americans to shop at malls or grocery stores, attend church, watch a movie, go to school and enjoy holiday parades—politicians have remained steadfast about not banning guns.
Instead of taking action to limit or get rid of gun ownership altogether, we are bombarded with hopes and prayers and active shooter drills. Victims of gun violence hail from various ethnic and racial backgrounds. No matter who is on the receiving end of harm, GOP lawmakers continually choose lining their pockets with NRA money over valuing human life.
Even the 2017 congressional baseball shooting which targeted Republicans and left House Majority Leader Steve Scalise and four others wounded didn't stop them from protecting gun laws. In fact, Scalise said he was as "ardent as ever" about protecting those rights because he was "saved by people who had guns." In other words, there is no reality in which America will prioritize people over weapons.
It was a valiant effort made by the white women who protested in Colorado yesterday. Unfortunately, it will just never be enough.