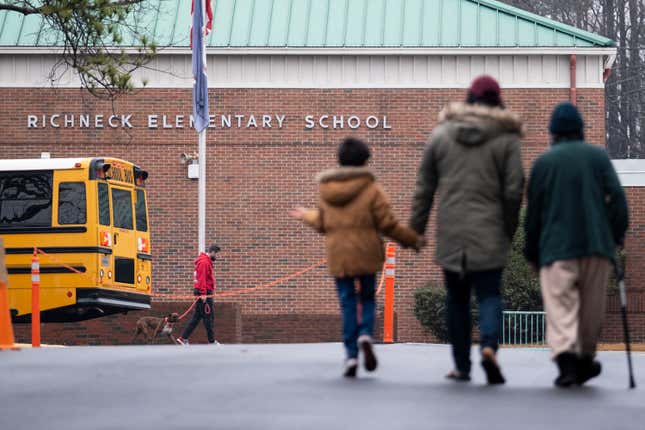 Updated as of 4/11/2023 at 10:00 a.m. ET

A Newport News grand jury has indicted the mother of the first grader who shot and seriously injured teacher Abigail Zwerner in January, according to the Daily Press. Her son managed to escape criminal charges after the prosecutor refused to hand any down. Now, she's being held accountable for his actions.
Small Town Horror: The Story of a SWAT Team That Set A House Ablaze
Deja Nicole Taylor, 25, was charged with felony child neglect and a misdemeanor count of recklessly leaving a firearm so as to endanger a child, the report says. The prosecutors asked the judge to continue the investigation into any other security issues that would have lead to the shooting, including the actions (or lack thereof) of school administrators. According to the Newport News commonwealth's attorney's office, they could also be held criminally responsible as well.
Taylor's charges come after an investigation by the police department and attorney's office. Her attorney argues that the legally purchased firearm was secured on a top shelf in her closet and had a trigger lock, per WSLS News. She is expected to turn herself in later this week.
According to state law, Taylor could face two to 10 years in prison for felony child neglect.
No Charges for the Child
Newport News Commonwealth's Attorney Howard Gwynn told NBC "the prospect that a 6-year-old can stand trial is problematic" because he wouldn't have the competency to understand anything about his charges or the legal system in general. The boy was facing aggravated assault, which under Virginia law could range anywhere from 15 days in jail to six months in prison for adults.
Under common law, minors under seven years old cannot be held liable for a crime, being they are too young to form criminal intent.
"Our objective is not just to do something as quickly as possible. Once we analyze all the facts, we will charge any person or persons that we believe we can prove beyond a reasonable doubt committed a crime," said Gwynn.
Since the crime, Richneck Elementary has installed two metal detection systems and two security officers have been assigned to the school, per a spokesperson for the Newport News school district. The school board announced every school in the district will eventually have the same security measures. However, parents are still left wondering who will be held accountable if not the young boy.
"[It's] really unbelievable. It has affected not only the instructors and the teachers and the whole school, but the whole community. Where does that really leave the school and the community?" said Vonda Pendleton, grandmother of a Richneck student via WTKR News.
Possible Charges for the Parents
Per The Root's previous report, Virginia considers anyone under the age of 18 years of age to be a child. Additionally, the minimum age to be tried as an adult is 14. It may seem unlikely for the boy to be charged (also considering he has an acute mental disability) though the boy's parents could be held accountable. In a pervious statement, they said their son is usually accompanied by one of them to class, but they did not go with him on the day of the shooting.
They could face a misdemeanor crime for leaving a loaded gun where it is accessible to a child under 14, which could be one year in prison and a $2,500 fine.
I wonder what the criminal penalty would be for the school staff. Zwerner's lawyer stated that staff were notified of a firearm concern several times throughout the school day. The boy's bag was even searched ahead of the shooting. Before the incident, Zwerner voiced concerns about this particular student's behavior, but to no avail, her lawyer said. If it's not criminal charges, they're certainly going to have to answer to Zwerner's pending lawsuit.
What Happened?
Reports say the boy brought his mother's 9mm handgun to Richneck Elementary and shot his teacher, Abigail Zwerner, who sustained serious injuries. Authorities say the firearm was purchased legally, and the boy's parents said the weapon was secured on a top shelf of his mother's closet with a trigger lock.

Police Chief Steve Drew said in a press conference that it would have been hard to determine whether the child could be criminally responsible, but it's not impossible. Upon first announcing the case, he said he believed the shooting was intentional.
Read more from AP News:
Drew described a complicated investigation that involved coordinating interviews with first-graders, which required permission from their parents as well as the expertise of a child psychologist. Detectives also had to interview teachers and follow up on various leads as new information came to light.

Newport News Commonwealth's Attorney Howard E. Gwynn told The Associated Press that the city's detectives handed over three binders of information to his office. Those files do not include the body camera footage of dozens of police officers who responded to the shooting. That video will also be reviewed.

"It's a lot of information and we're going to carefully review it as we do in every case," Gwynn said.