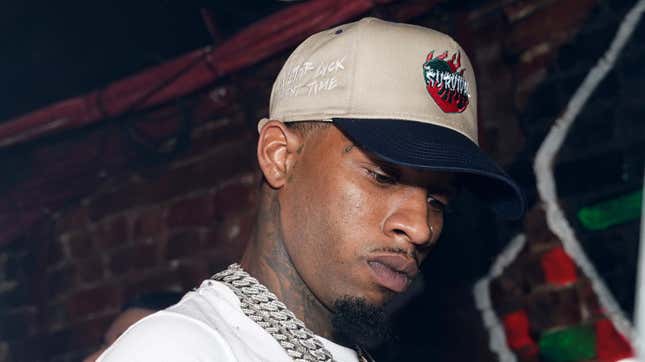 After several delays, motions filed, and all around foolishness—rapper Tory Lanez sentencing in the shooting case of Megan Thee Stallion has been pushed back to Tuesday.
Will The Real Black Journalists Please Stand Up
This unfortunate circumstance was reported out by legal affairs and trials journalist Meghann Cuniff who was present at Los Angeles Superior Court. Per Cuniff, during the sentencing the judge presiding over the case "briefly summarized" over 70 letters of support for Lanez—including one from fellow rapper Iggy Azalea, a jailer, the jail chaplain and Lanez's own six-year-old son.
In Azaelea's letter, she called on Judge Herriford to give the rapper a sentence that was "transformational, not life destroying." In the letter from the jailer, he detailed how Lanez was "remorseful" and "talked in detail about the event and what he could have done to prevent it." The chaplain also noted that Lanez initiated "daily prayer" in the protective custody unit he's been held in and said it "lessened tensions between in inmates." Lanez' father, Sonstar Peterson, also spoke up on his son's behalf, apologizing for his courtroom "outburst" after the initial guilty verdict was handed down.
The judge also agreed on two of the three aggravating factors the prosecutorial team previously cited as their reasoning for additional prison time for Lanez. As previously reported by The Root, those included his "use of of a semi-automatic firearm" and the Traumazine rapper's "vulnerability as a victim." The judge declined on the third factor of "Lanez's callousness and the great bodily harm he caused Megan Thee Stallion."
Additionally, a victim impact statement was read by the DA on the "Savage" singer's behalf. In it, she stated how her decision not to show up in person should be perceived as "preserving her mental health," and that since the shooting: "I have not experienced a single day of peace. He lied to anyone that would listen." The Houston rapper also made it clear that she believed Lanez has shown no remorse and that his sentence will hopefully send a message to every woman of violence.

As previously reported by The Root, though the prosecutorial team is seeking 13 years, Lanez's lawyers sought to get their client probation and time in "a residential drug treatment program" citing the fact that their client had "psychological, physical, and childhood trauma" that was a factor "in the commission of the offense." They also argued that his alleged alcoholism "compromised his ability to manage and regulate his emotions and behaviors and that his alcohol use disorder played a significant role in the alleged offenses."
In December 2022, the "LUV" rapper was convicted of assault with a semiautomatic firearm on Megan Thee Stallion, having a loaded, unregistered firearm in a vehicle and discharging a firearm with gross negligence.