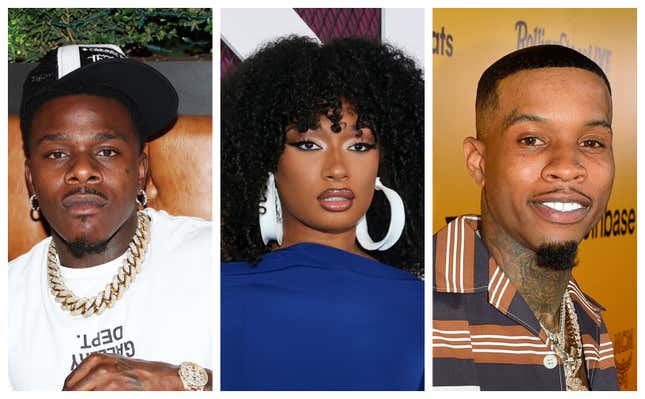 As Tory Lanez awaits his conviction on June 13, new light is being shed on his surprise appearance during the 2021 Rolling Loud Festival in Miami.
According to a new court memorandum filed over the weekend, prosecutors in the case against Lanez allege that he and fellow rapper DaBaby moved with malice by attempting to ambush Megan Thee Stallion during her performance at the event. As we told you on Friday, Lanez violated his court order to stay at least 100 yards away from her when he showed up. Now via court documents, it appears the plan was for both Lanez and the Blame It On Baby rapper to "rush the stage" where Thee Stallion was without her knowledge or consent.
"During the victim's performance, the defendant went through security clearance and entered the green room. These areas were within 100 yards of the stage where the victim was performing, in violation of the protective order," the memorandum read in part according to legal affairs journalist Meghann Cuniff. "It was also brought to the victim's attention that the defendant and DA Baby attempted to rush the stage during her performance. In no way was the victim previously aware of nor did she consent to the defendant's presence at the venue when she would be performing. The victim was incredibly fearful upon discovering the defendant was at the venue and within the prohibited 100 yards."
It continued: "Days later, upon being asked online, 'Don't you have a gag order?', the defendant responded via his Twitter account, 'I'm starting to not give a fuck.'"
As previously reported by The Root, prosecutors are seeking 13 years in prison for Lanez for his conviction of shooting Thee Stallion. There's no word yet on whether or not he'll be deported back to his home country of Canada.