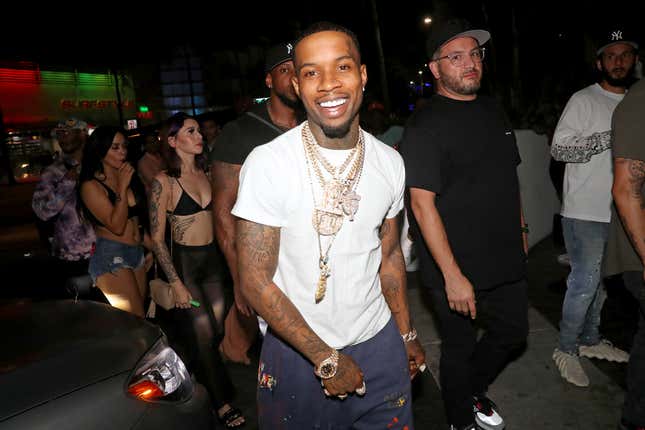 Lawyers for rapper Tory Lanez are not giving up in the fight for their client and their latest move appears to show just how dedicated they seem to be at making sure he receives the lightest sentencing possible after being convicted of shooting fellow rapper Megan Thee Stallion.
Will The Real Black Journalists Please Stand Up
According to official court documents obtained by legal affairs and trial journalist Meghann Cuniff, Lanez's legal team filed a new motion on Wednesday requesting that their client be sentenced to probation and "a residential drug treatment program" a.k.a. therapy instead of the 13-year-sentence that prosecutors are seeking.
Their argument is that while evidence against Lanez (legally Daystar Peterson) is "questionable at best and by no means overwhelming," if they were to go off the assumption that he is guilty of the allegations, his "psychological, physical, and childhood trauma was a factor in the commission of the offense. Likewise, the current offense is connected to Mr. Peterson's childhood trauma and mental illness, alcohol-use disorder." So a stint in therapy for alleged alcoholism and childhood trauma seems to be the more suitable route to go.
Lanez legal team also enlisted the help of a psychologist to speak with Lanez, who further aided in their quest to get Lanez a different sentencing by concluding that the Canadian rapper's alleged alcoholism "compromised his ability to manage and regulate his emotions and behaviors and that his alcohol use disorder played a significant role in the alleged offenses." They also argued that Lanez' community involvement, charitable work, and relationship with his six-year-old son will be greatly impacted if he's sentenced to a long prison sentence as opposed to probation.
While this may be compelling enough for some people, Lanez's legal team faces an uphill battle with this request. This is due largely to the fact that, as previously reported by The Root, there were a couple of "aggravating circumstances" in the case, that make him "presumptively ineligible for probation" according to his own lawyers.
However, they're pushing forward with this motion anyway because California laws allow for exceptions in "unusual cases" and they believe that Lanez's case fits that bill. If probation isn't granted, then the "LUV" rapper's lawyers will instead seek to get their client a three-year sentence, citing the fact the 13-year-sentence being recommended by the prosecutorial team allegedly goes against Los Angeles County District Attorney George Gascón's policies.
Sentencing for Lanez is set to take place on August 7. He faces a max sentence of 22 years, eight months, and possible deportation back to his home country of Canada.