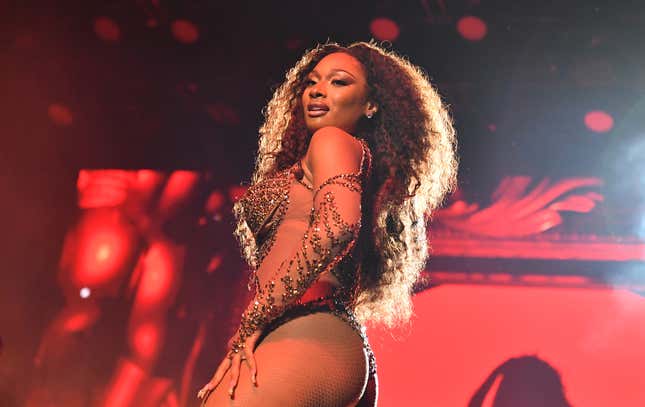 Real Hot Actress Girl Shit! If you've been waiting with bated breath to see a first glimpse of Megan Thee Stallion's feature acting debut, then boy do I have some good news for you!
On Thursday, the trailer for her upcoming film Dicks: The Musical was released ahead of its premiere at the Toronto International Film Festival (TIFF) and MY OH MY—what a ridiculous and raunchy film it looks to be.
As previously reported by The Root, back in March, we told you that she signed on to star in A24-produced film then known as Fucking Identical Twins, alongside Bowen Yang, Megan Mullally and Nathan Lane. Now, we have a better idea on what we can expect.
Based on an original stage musical from Aaron Jackson and Josh Sharp (who star as the main protagonists in the film), the forthcoming feature follows two self-obsessed businessmen who discover they're long-lost identical twins and come together to plot the reunion of their eccentric divorced parents.

Thee Stallion appears to play the stellar-suited boss who kicking ass and taking names—which is hella on-brand and par for the course for the self-ascribed Hot Girl Coach.
In one clip, she raps: "Y'all just servants, this is my palace, built it brick by brick. So get in a line, drop on your knees and suck my fucking d—" well, you get the point.
After appearing in shows like P-Valley and She-Hulk, maybe this film will be jump off (no pun intended) point to a bustling and successful acting career for the "Savage" rapper.
Dicks: The Musical hits theaters Sept. 29.