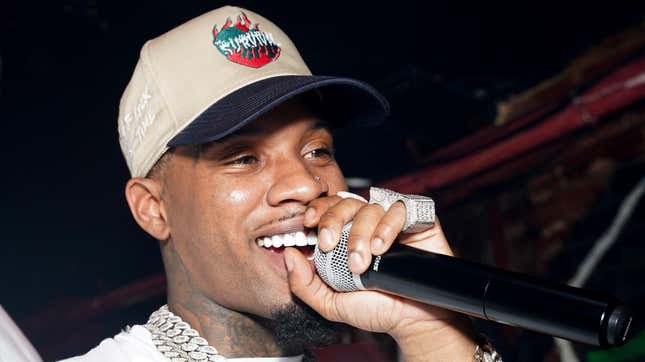 It looks like Tory Lanez and his legal team have skirted justice once again as sentencing for the rapper—who was convicted of assault with a semiautomatic firearm on Megan Thee Stallion, having a loaded, unregistered firearm in a vehicle and discharging a firearm with gross negligence—has been delayed once more.
Will The Real Black Journalists Please Stand Up
According to legal affairs journalist Meghann Cuniff, Judge Herriford pushed back sentencing for Lanez until August 7. This decision was made in order to allow his team more time to prepare to address the aggravating factors the prosecutorial team have argued against him as their reasoning for the prison recommendation sentence of 13 years. In particular, the judge wants Lanez's team to "address the aggravating factors of great bodily harm and use of a firearm, which prosecutors want Herriford to factor into Lanez's sentence."
When asked if Thee Stallion would be present at the August 7 date, Deputy District Attorney Alex Bott said: "We're still working out the details there. We look forward to having this matter adjudicated on the 7th. I know Megan's really wanting to see this thing, this chapter closed in her life. We just appreciate her being as strong as she is, and this is going to be over very soon."
As previously reported by The Root, this marks the third time sentencing for Lanez has been delayed. He's been behind bars without bail since his conviction back in December. He faces a max sentence of 22 years, eight months, and possible deportation back to his home country of Canada. Here's hoping that by the time August rolls around, the "Lavender Sunflower" rapper will finally get face the consequences that he so rightly deserves.