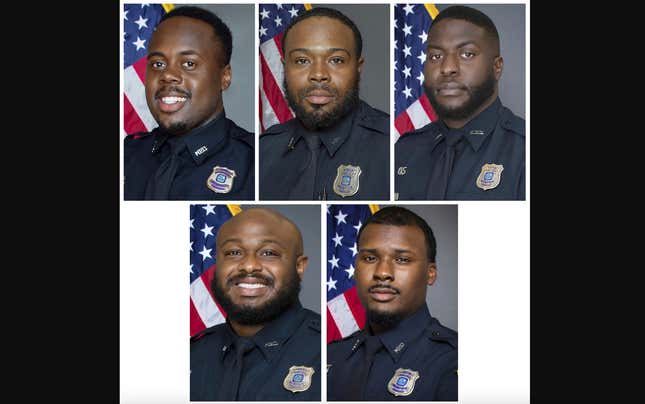 I knew it was getting a lil' too quiet in the Tyre Nichols case. The latest update we got is really just more bad news for the five former Memphis cops charged in the fatal beating. According to The AP, the furious five are facing new federal charges.

Tadarrius Bean, Desmond Mills, Demetrius Haley, Emmitt Martin and Justin Smith were charged with second-degree murder in state court for their involvement in the brutal beating of Tyre Nichols that claimed his life back in January. Each of them entered not guilty pleas following the indictment but now they face four federal charges: deprivation of rights under the color of law through excessive force and failure to intervene, and through deliberate indifference; conspiracy to witness tampering, and obstruction of justice through witness tampering.
On top of their state and federal charges, they're due back in the courthouse again because Nichols' mother named the five along with their former place of employment in a federal lawsuit.
Read more from AP News:
A hearing was set for Friday morning in the federal lawsuit filed by Nichols' mother against the five officers, the city of Memphis and its police department. The officers then are scheduled to appear in state court Friday afternoon.

The Justice Department announced an investigation in July into how Memphis Police Department officers use force and conduct arrests, one of several "patterns and practices" investigations it has undertaken in other U.S. cities.

In March, the Justice Department said it was conducting a separate review concerning use of force, de-escalation strategies and specialized units in the Memphis Police Department. Nichols' mother has sued the city and its police chief over her son's death
What Happened?
Nichols was returning from taking pictures of the sunset when he was pulled over by members of the Memphis Police Department for alleged reckless driving on Ja. 7. However, the officers yanked him out of his vehicle and beat him with a baton. Nichols ran down the block toward his mother's house but was cornered by several unmarked cars from the MPD's SCORPION neighborhood crime unit. More officers then hopped out and beat Nichols senseless. He died three days later from his injuries.
Following the incident, Memphis City Council passed an ordinance to outlaw pretextual stops - traffic stops for minor violations that are meant to escalate into felony investigations. Whether these have been enforced with what's left of the Memphis Police Department… is up for debate.