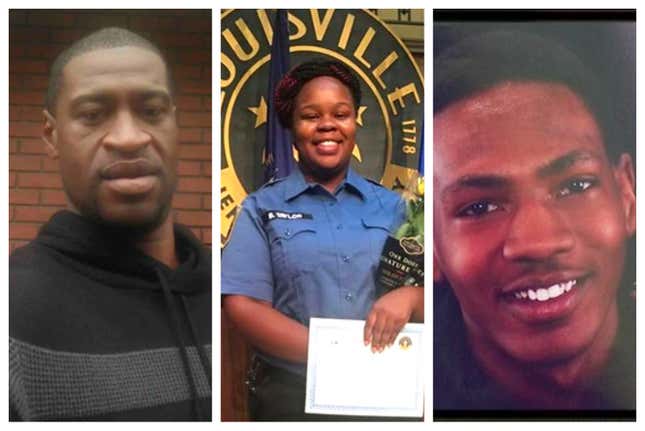 Every time a Black person dies as a result of a police interaction, their families demand justice be served: justice meaning a conviction for the cops. It's hard to believe but many officers don't go to trial. Why? Because a jury found their actions reasonable, even the spraying of 80 bullets toward Jayland Walker.

How could this be?

According to Statista, the trend in fatal police shootings has increased since 2017, especially for Black men. By March, they made up 30 of the 238 victims of police shootings in 2023. Though, the police officers accused in these incidents are rarely prosecuted, regardless of the profile of the case. And more often than not, they stay employed.
A grand jury declined to indict the eight officers who shot over 80 rounds of bullets at Jayland Walker, who was unarmed at the time of his death, per CNN. They kept their jobs. The officer who delivered the fatal shot at Breonna Taylor during a botched raid, Myles Cosgrove, escaped criminal charges along with his other colleagues involved. He was fired but just accepted a new position at the sheriff's office a county over, per AP.
Sometimes the cases don't always end fatally. Fairfax County Police Officer Tyler Timberlake was caught on camera, pinning down a disoriented Black man face-down and tasing him repeatedly. According to WUSA9, he got off on the assault and battery charges but got hired by the Minneapolis police department, the same one ridiculed following the murder of George Floyd.
Read an expert's take from Vox: 

Since 2005, 139 police officers have been arrested for murder or manslaughter due to an on-duty shooting, according to data from Philip Matthew Stinson, a criminal justice expert at Bowling Green State University who has been tracking the data for years. That amounts to fewer than nine prosecutions a year.

About 1,000 fatal police shootings are reported each year in the US — so the arrest rate is around 1 percent, never higher than 2 percent. Some, perhaps most, shootings are justified. But the number of police officers prosecuted "seems extremely low to me," Stinson told me. "In my opinion, it's got to be that more of the fatal shootings are unjustified."
On the other hand, the officers named in the brutal beating of Tyre Nichols, who were Black, faced everything from termination, criminal charges and a permanent bar from policing within just weeks of the incident.
The trend is quite simple to see. In cases where the victim was Black and the officer was white, the numbers show it's less likely for there to be a conviction. We'll be here for days if I had to list every example.
If it isn't a racial issue as to why these cops get off, it's certainly what the victims' families consider a flaw in the criminal justice system or in America's culture - where Black people are overwhelmingly considered to be criminals and officers as untouchable heroes.