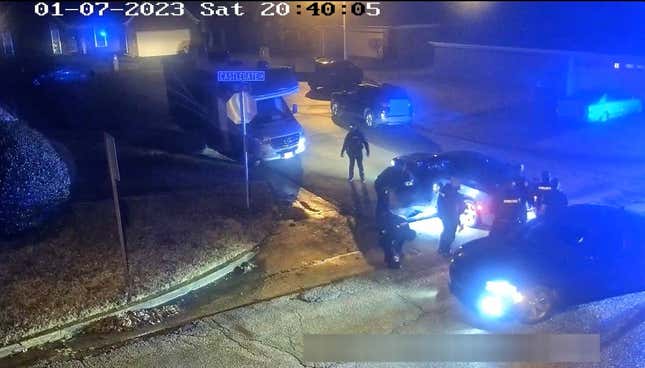 The Memphis police supervisor present at the brutal beating of Tyre Nichols in January retired with all his benefits the day right before he was about to be fired from the department, according to CBS News. The then-unidentified officer was the 7th to be charged administratively in the incident.

Black People Can Be Racist Too, Say Ibram X. Kendi and Nic Stone
Well, well, well. It seems the supervisor who was responsible for de escalating the punching, kicking, tasing and pepper spraying of Tyre Nichols might not have done his job and even escaped without being held accountable for it. The report says Lt. Smith blended in with the other Memphis police officers, looking at Nichols motionless and bloodied on the ground without offering any aid. His own decertification documents expose him for hearing Nichols say, "I can't breathe," and still not seeking medical attention.
Additionally, the documents say Smith didn't obtain reports from the other officers about their use of force. Nichols' parents believe he was the officer who came to their doorstep with a misleading story that their son was driving under the influence —and without any evidence to determine Nichols was intoxicated but rather joining the banter with the other officers that he was high and "must've took something."
Just before he could've been fired by the department, Smith slipped through the cracks and took his pension with him.
Read more of Lt. Smith's retirement from ABC News:
"We call for Memphis police and officials to do everything in their power to hold Lt. Smith and all of those involved fully accountable and not allow Lt. Smith to cowardly sidestep the consequences of his actions," the Nichols family's attorneys said in a statement. "His cowardice in resigning and not facing his own disciplinary board to defend himself is not an end-around on accountability or reckoning."


According to the Associated Press, Lt. Smith wasn't wearing a body camera at the scene— a violation of department rules.

"Tyre's parents believe Smith was one of the first officers who came to their house and told them about Tyre's beating," Wells' attorneys said in a statement. "[Lt. Smith] said Tyre was involved in a DUI or on drugs, and did not tell them about the severity of the situation." The statement also said Smith told Wells she would not be permitted to see her son in the hospital.
It's unclear if Smith will be facing any legal action at this point. Though, the Department of Justice's review of the Memphis Police Department may certainly flag the lack of intervention from supervisors like Smith.