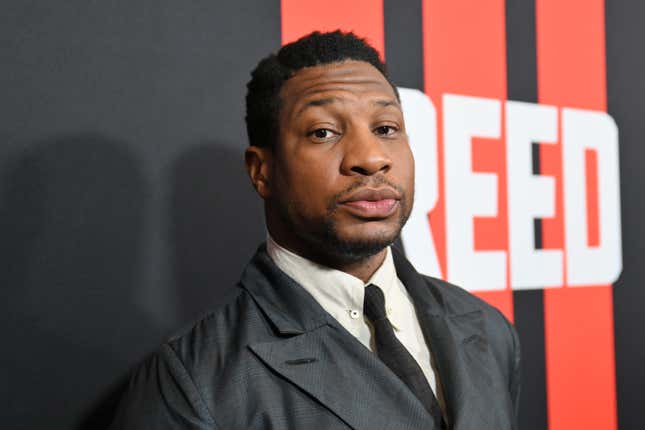 Spoiler Alert! If you haven't seen Ant-Man and the Wasp: Quantumania yet, stop reading now!

Samuel L. Jackson Returns As Nick Fury in Marvel's Secret Invasion–Our TV Pick This Week
Seriously, see the movie then come back and enjoy the story.
OK, you've been warned!
The reactions to Ant-Man and the Wasp: Quantumania may have been mixed, but the one thing everyone can agree on is that Jonathan Majors' Kang is an amazing addition to the Marvel Cinematic Universe. He's set to be the big bad for the next two phases of the franchise, so we need to know as much about him as we can. While Marvel Studios likes to keep things close to the vest, the film's writer, Jeff Loveness, revealed a few details about the character's debut and what we can expect to see from him in the future.
Time travel and parallel Earths aren't new concepts to sci-fi/fantasy and comic book fans. The success of films like Back to the Future, and more recently, Everything Everywhere All at Once, has made the multiverse practically mainstream. However, since Kang is called The Conqueror, Loveness wanted him to feel like a classic character from history.
"I thought it would be interesting to approach the character first before we get to the more grandiose sci-fi elements of him," Loveness told The Hollywood Reporter. "Peyton [Reed, the film's director] and I stumbled across the idea of Napoleon in exile, where he's cut off from most of his time powers. We catch him at the end of a story that we just don't know about yet. Guys like Alexander the Great or Julius Caesar are defined just as much by their defeats as they are their victories, and so I thought it would be humanizing to show a Kang who's just been defeated. He's like a Julius Caesar who was just assassinated by fifty other Julius Caesars and sent away. Or he's like Alexander who has just been turned back at India and has lost the worlds that he conquered."
When we first meet Kang in the Season 1 finale of Loki, we meet an older, wiser variant named He Who Remains. This Kang is threatening, but not nearly as menacing as Quantumania's Conqueror. Through Major's captivating performance, it's also clear that He Who Remains is extremely powerful, letting the audience know that this is a character with untold abilities we haven't seen yet. In the movie we get to see all that strength in action, while also getting a glimpse at Kang's vulnerability.
"That allowed us to really give Jonathan Majors an opportunity to show the sheer humanity of this character," he said. "It's also the opposite of Thanos. Josh Brolin did a terrific job, obviously. So much has been said about Thanos, but he is a purple, CGI space alien. So it was thrilling to write for a human face and one as expressive as Jonathan Majors'. But there's going to be plenty of sci-fi and conquering in these Avengers movies going forward, so my approach was to give people a taste of who this guy is."
Loveness will continue to craft The Conqueror's story, as he's writing Avengers: The Kang Dynasty. The mid-credits scene of Quantumania showed us that Majors has countless more Kangs to introduce us to, each one seemingly worse than the next. Throughout the film, he keeps telling Scott that he's the one who can defeat the others. The Council of Kangs is happy to hear about his defeat in the Quantum Realm, which proves that he may have been right. So, where does that leave the rest of the multiverse?
"The main theme to get across is that Kang is many things, but he is not a liar. All the hints, threats and warnings he was giving Scott in the middle of the movie turned out to be very true, and Ant-Man, the Wasp and the whole family barely survived beating just one of these Kangs. So, what the hell are the Avengers going to do against a thousand Kangs?," he said. "And on a villain level, we saw how bad Jonathan Majors was as one Kang, so who was bad enough to beat him? Who's the Kublai Khan to the Genghis Khan of the Kang Dynasty? Who is the Caesar Augustus to the Julius Caesar of the Roman Empire? Who is clever and cunning and evil enough to take out the dictator of the Kang Dynasty? So it's a bit of an exponential step up, and it's a way to show the Avengers are in way over their head. They just don't know it yet."
Seriously, I am not waiting until The Kang Dynasty's release in 2025 to get more Kang. Of course, the post-credits scene teased that we may see the character return in Season 2 of Loki.
Ant-Man and the Wasp: Quantumania is now playing in theaters.