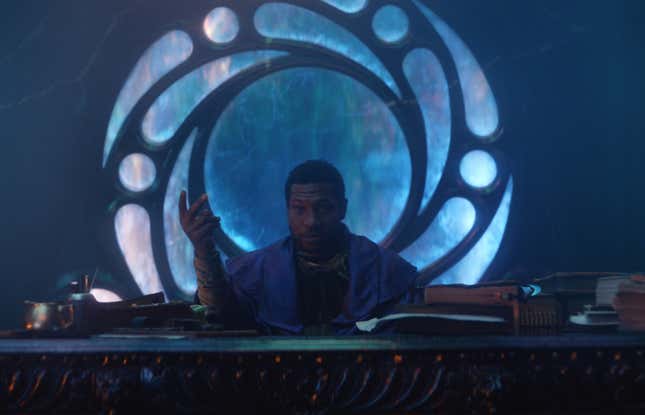 Kang the Conqueror is the big bad for the next two phases of the Marvel Cinematic Universe. Here's the thing: a lot of Kang's stories involve time travel, so I'm not going to go into a full explainer of his backstory because we would all go a little crazy.

Samuel L. Jackson Returns As Nick Fury in Marvel's Secret Invasion–Our TV Pick This Week
In the comic books, we meet multiple variants of the character. Though the various versions of Kang have different experiences and motivations, they all seem to lead to one place: world domination. No matter what he says, that's his end goal. Kang wants to rule the universe. And based on what we've seen from the character in Loki and Ant-Man and the Wasp: Quantumania, it looks like Kang will be a more powerful threat than Thanos.
Considering that Thanos snapped half the universe out of existence in 2018's Avengers: Infinity War, I know that seems like a crazy statement, but Kang is a terrifying combination of genius, ego and insanity. Before you rush out to see Ant-Man and the Wasp: Quantumania on Feb. 17, it's time for a deep dive into the MCU's fascinating new villain, Kang.
The Origin
In the Loki season one finale, "For All Time. Always," we get a surprise introduction to the character and his background. He Who Remains, played by Jonathan Majors, very politely walks Loki, Sylvie and the rest of us at home through the multiverse.
In the 31st century, a brilliant scientist named Nathaniel Richards—who seemingly has a connection to the MCU's forthcoming iteration of the Fantastic Four—discovered the existence of other universes. He met his variants who, for the most part, wanted peace. But of course, there were others with less noble plans. The bad ones wanted to conquer and rule, so the Multiversal War began.
He Who Remains used the power of Alioth, a matter-absorbing monster, to end the war, then created the Time Variance Authority to maintain the prime timeline. He tells Loki and Sylvie he is the only thing holding back his far more evil variants. So if they kill him, things will get much worse.
Blinded by revenge, Sylvie kills him anyway, then looks out the window to see the timeline branching off into an unknown number of universes. And now the stage is set for Kang's MCU future. This was an absolutely brilliant way to introduce the character. We got all the exposition, a captivating first look at Majors and the true danger of Kang was established.
Enter the Conqueror
The early trailers for Ant-Man and the Wasp: Quantumania immediately set the tone that this was a completely different Kang than He Who Remains. The short glimpses showed a violent, brutal Kang who is not to be trifled with. The villain has already conquered the Quantum Realm, and other places are probably next on his list.
He quickly figures out Scott's weak point and takes advantage of it. Because that's what Kang does: he manipulates. People, time, science, he bends them all to his will—and Ant-Man is no different. So far, Scott has fought Yellowjacket, who was essentially a disgruntled employee with a super suit, and the Ghost, a misunderstood assassin. Kang is a big step up in weight class for a hero at his level. He may be an Avenger and talk about saving the world, but he has not matched up with anyone remotely close to Kang's level. This is a seriously bad variant. But, we also know that Marvel Studios is not going to give us the worst version in the first movie, which means there are even more evil variants coming down the road.
The Multiverse Saga
The villain has been confirmed to appear in Avengers: The Kang Dynasty—set for release on May 2, 2025–and Avengers: Secret Wars—scheduled to hit theaters on November 7, 2025. But I find it really hard to believe that we're not going to see Kang until 2025. Much like the studio did with Thanos, the MCU will be sprinkled with teases and possible surprise cameos.
As the franchise establishes the multiverse, we might get to see variants like Rama-Tut, or He Who Remains again, or the Council of Cross-Time Kangs. Imagine a scene where Jonanthan Majors is sitting around a table portraying wildly different variants. Nope, we cannot wait until 2025 to get more Kang.
Marvel always finds a way to surprise us, but the best guesses for where Kang could pop up and surprise us in Phase 5 are Guardians of the Galaxy Vol. 3; The Marvels; Secret Invasion; Agatha: Coven of Chaos; and What If…?
Ant-Man and the Wasp: Quantumania flies into theaters on Feb. 17.