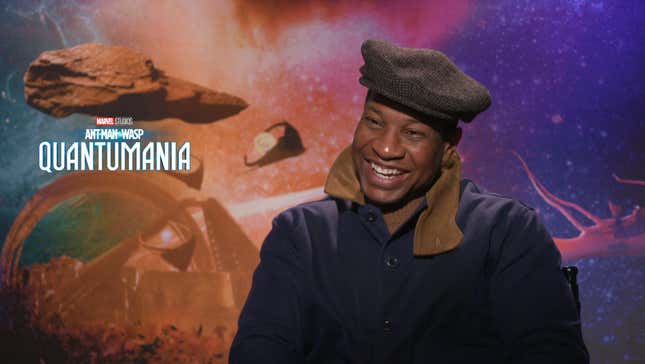 I don't know who needs to hear this, but Emmy-nominated actor Jonathan Majors has officially entered his villain era.
Ant-Man and the Wasp: Quantumania Star, William Jackson Harper, Plays That's So Random
If that wasn't evidenced by his portrayal as He Who Remains in the popular Disney+ series Loki, then it'll be further solidified when he makes his debut as Kang the Conqueror in the upcoming Marvel film, Ant-Man and the Wasp: Quantumania. In it, Majors stars as the all-powerful, multi-variant big bad who's hellbent on getting his way no matter what or who he has to go through.
And while fans are usually Team Avengers when it comes to these films, thanks to Major's impressive acting chops, charismatic personality and god-like physique, most folks have found themselves switching sides and rooting for the villain this time around.
When asked during an interview how it feels to know so many Marvel fans have ditched the Avengers and gone pro-Kang, the Devotion star told The Root:
"There's so many layers to it, isn't it? For one, you just want to do a good job. You just want to do a good job and if you do a good job, you don't know what the response will be. You could do a good job and they hate you. They like you in the movie but they hate you! Or you could do it and they like you in the movie but they're [like], 'He's not a villain.' So that's a delicate balance.

"It's early, but the fact that people are showing love to Kang—who he is and what he represents—it's exciting. It's emboldening to continue to double down on what it is that we've been doing."
And "emboldening" is right, especially given the fact that Majors will not only be starring as an antagonist in Ant-Man, but he'll also be Michael B. Jordan's formidable foe in the upcoming threequel, Creed III, next month. It's safe to say he's entered his villain era when it comes to his filmography, but in real life, when someone enters their "villain era," it means that they're putting up boundaries, saying no to things that no longer serve them and putting themselves first in a way that they hadn't before—as noted by Refinery29.
When I asked if he's entered into his personal villain era yet, the Lovecraft Country star assured me that he's only just getting started.
"I think I'm starting right now. I didn't know that. I need to villain up, I need to boundary up. I'm putting up boundaries," a newly enlightened and excited Majors said. "I'm saying no to things that no longer serve me. I'm putting me and my family first. I like that. I'mma get a tattoo. 'Villain era.'"
You can catch Jonathan Majors next in Ant-Man and the Wasp: Quantumania when it comes out this Friday, on Feb. 17, and in Creed III on March 3.