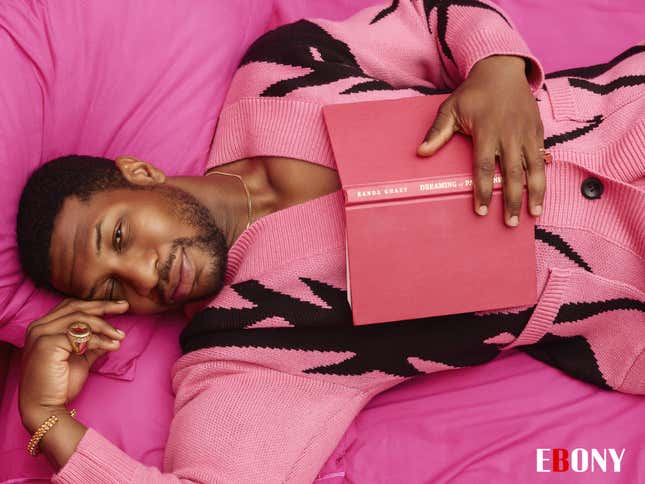 Jonathan Majors is a beautiful Black man. Let's start right there. His gorgeous skin, wide nose, full lips, and chiseled physique are enough to make anyone look twice with deep admiration and appreciation. The actor, who has been a rapidly rising star in Hollywood, recently graced the cover of EBONY magazine, which accurately dubbed him "Hollywood's Most Wanted."

Another Anti-Trans Policy Forced Virginia Students to Walk Out in Droves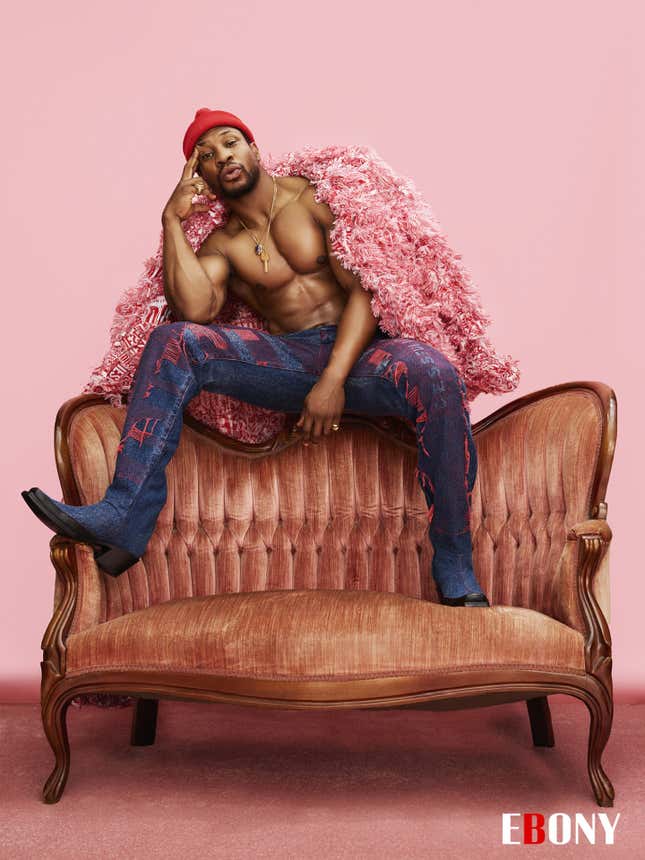 The images are stunning—but not everyone appreciates their artistry. In fact, several people have taken to social media, such as Candace Owens, to complain about them, claiming the images from the photo shoot are "emasculating" and "effeminate."

In one of the photos, Majors is wearing boxing shorts, white sneakers, and a red cloth draped across his shoulders and the chair he is sitting on. He is holding two bunches of red roses and there are petals spread across the floor.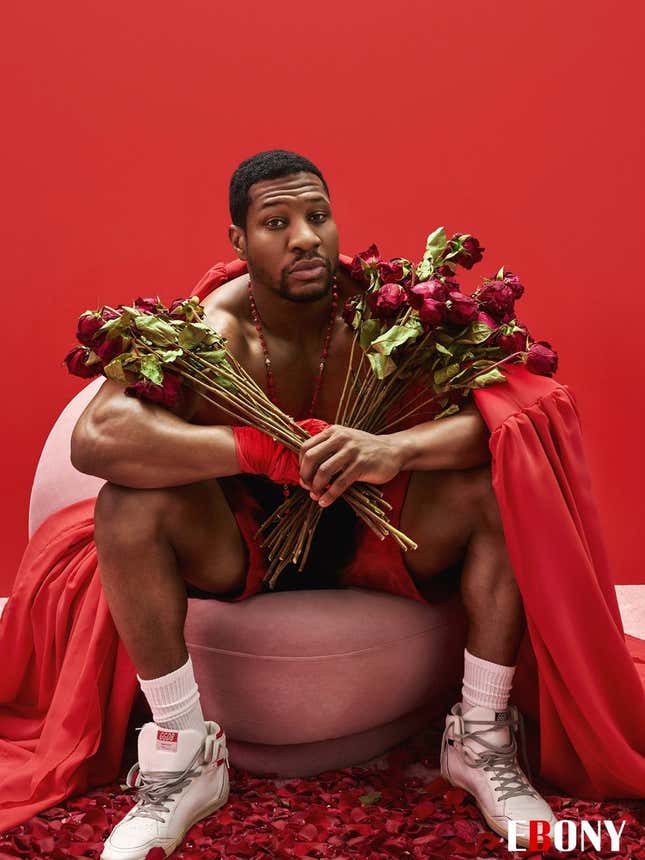 In another version, he is plucking petals from one bunch of roses, staring directly into the camera. He exudes a smoldering, sexy confidence and looks just like a man at the top of his game. However, there are some really confused people who think the pink and red color scheme of the photo shoot—which also includes a cosplay of a popular anime character—along with the plethora of flowers is too "feminine" and that there is somehow a mass conspiracy to "emasculate the Black man."

Majors isn't the only one to come under attack. Rapper A$AP Rocky garnered similar scrutiny when he recently appeared on the cover of British Vogue magazine with superstar singer Rihanna, the mother of his infant son (also in the photo). In this beautiful family snapshot, Rihanna is front and center, snatching our wigs in a glorious black dress. The two appear to be walking on the beach—Rocky holding their son while Rihanna's diamond-encrusted finger holds his free hand.
Critics have twisted themselves into a tizzy saying the picture makes him look like a submissive man and is, of course, "emasculating. Apparently, there are people who honestly believe there is some massive agenda to "feminize" Black men by depicting them as... loving fathers and supportive partners? Someone even went so far as to lay it all out for us: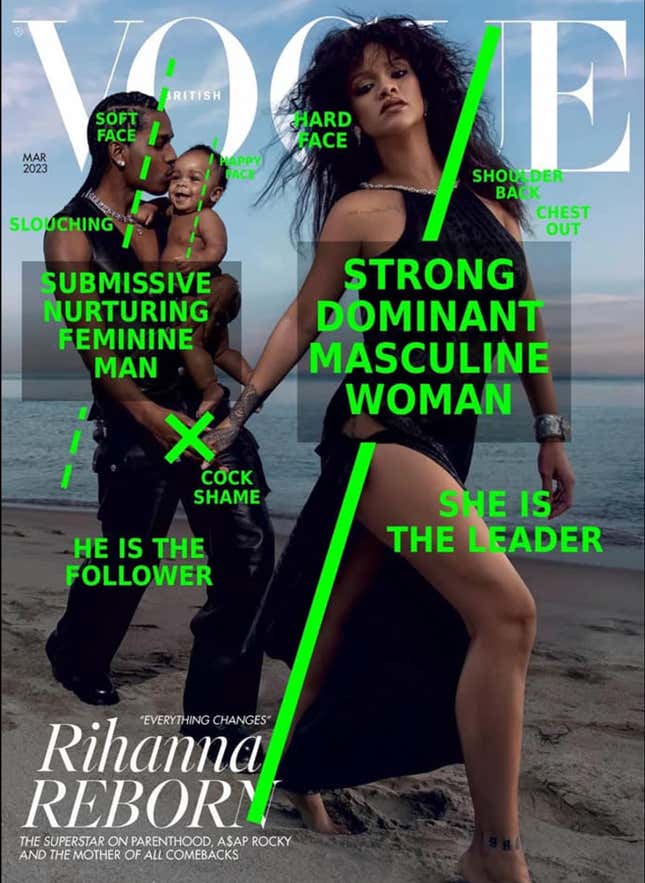 I've learned to expect anything on the internet, from the wildest conspiracy theories about the COVID vaccine to the most ignorant ideas about critical race theory. But this has been some of the worst nonsense I've seen in a long time. Constructions of masculinity and femininity are often so narrow and limiting that they can be harmful to us and have a negative impact on how we navigate the world around us. We have to question who decides what it means to be a man or a woman, and why we just accept those ideas as they are.
It's time we let go of these backwards notions that men lead and women follow, and that anything else is somehow a conspiratorial attack on men or a threat to Black men especially. So much of how we think about interactions between men and women is rooted in white supremacy, patriarchal religious dogma, and western capitalism. Too many of us cling to the most archaic constructions of masculinity and femininity because we are too afraid of what might happen if we outright reject them. Can you imagine how much happier we would all be if we simply felt free to be whomever we wanted to be?
There is absolutely nothing about being bathed in flowers that challenges Majors' "manhood" or makes him out to be feminine, as if appearing feminine is somehow weak or problematic. If anything, the flowery imagery emphasizes the fact that he is completely taking over Hollywood and deserves all of his flowers, or accolades, while he's able to fully appreciate them.
There is also absolutely nothing about being a doting father who kisses his beautiful child while showing support to his billionaire girlfriend that suggests "weakness" or "submission." Since when is showing love and nurturing someone something men are prohibited from doing?
I feel sorry for those who perhaps didn't grow up with examples of men who were confident enough in themselves to march to the beats of their own drums or maybe never got to see men loving up on women and children in nurturing and supportive ways. I worry about where we are headed if people still believe that unless a Black man is in charge, taking the lead, making more money, or controlling and dominating women, he must be "weak." And I truly hate that people continue to equate femininity and womanhood with weakness and submissiveness; using "effeminate" as an insult says more about how they feel about women than anything it says about men.

Majors and Rocky each seem to be extremely happy living their respective lives and they move like they're proud of themselves. As much as Black men have to deal with at the hands of white supremacy and systemic racism, shouldn't we be celebrating the brothers who seem to be claiming joy against all odds? Shouldn't we want more for our brothers than solemn lives riddled with pain and rage? Shouldn't we enjoy their infectious smiles and bask in their unapologetic happiness?

We have so much healing to do as a people and it starts with self-determination. We can be anyone and do anything we want to do and committing to being our unique, beautiful, and resilient selves should be at the top of the list. Loving ourselves, our friends and families, and our communities should be the priority, not tearing each other down with tired insults. Perhaps more of these critics should stop every once in a while and smell some of the roses Majors embraces and rightfully deserves to be basked in.

Feminista Jones is an award-winning feminist writer, public speaker, community activist and retired social worker. She is author of the critically acclaimed Reclaiming Our Space: How Black Feminists Are Changing the World From the Tweets to the Streets (Beacon).