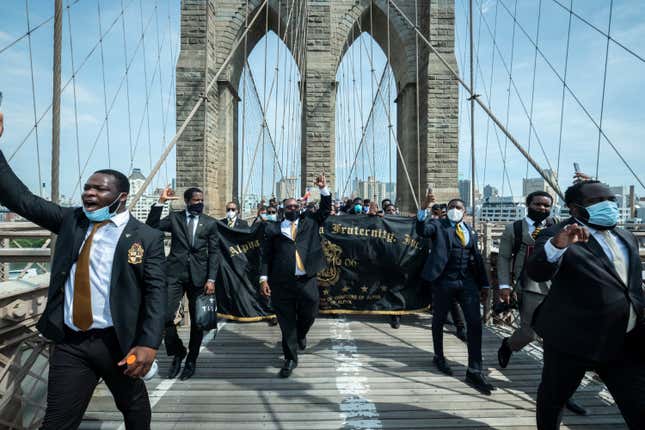 Florida has targeted the Black community from restricting voting rights to banning books about basic Black history while completely ignoring the systemic racism being perpetuated by every bill they pass. It's unsurprising that the oldest Black fraternity, Alpha Phi Alpha Fraternity, Inc., pulled their upcoming conventions from Orlando.
Small Town Horror: The Story Of A Black Teen Attacked By A "Missile"
In a statement, General President Dr. Willis L. Lonzer, III, referenced "the continued assault" on the Black community by Gov. Ron DeSantis.

The announcement comes after DeSantis publicly supported The Florida Board of Education's new social studies curriculum for grades K-12 which the fraternity said, "erases Florida's role in slavery and oppression, blames the victims, and declares that African Americans who endured slavery benefitted from the horrific and torturous institution." Dr. Willis said there's no way the fraternity will host the 99th General Convention and 119th Anniversary Convention (that could bring up to $46 million in revenue) in a "hostile" place.
Three other organizations including the National Society of Black Engineers canceled their conventions for 2024 because of recent controversial bills the state has passed, per Fox 35 Orlando.
The NAACP not too long ago issued an advisory to Black people not to even step foot in the "sunshine" state. DeSantis' war on anti-racist eduction may be Florida's 2023 scandal but in 2013, it was the acquittal of George Zimmerman in the fatal shooting of Trayvon Martin.
That verdict drew members of the National Association of Black Journalists to consider moving their Orlando convention out of state to San Diego or Indianapolis two weeks before it was scheduled, according to Poynter. It would have costed the organization $1 million in revenue. Meanwhile, Trayvon supporters and even celebrities like Stevie Wonder were calling for a Florida boycott back then.
In a similar demonstration against divisive politics, the Major League Baseball 2021 All-Star Game was moved to Colorado from Atlanta after Georgia passed a voting law restricting access to absentee voting which directly impacted Black and brown communities, per NPR.
"Georgians - and all Americans - should fully understand what the MLB's knee-jerk decision means: cancel culture and woke political activists are coming for every aspect of your life, sports included," responded Gov. Brian Kemp in a statement.