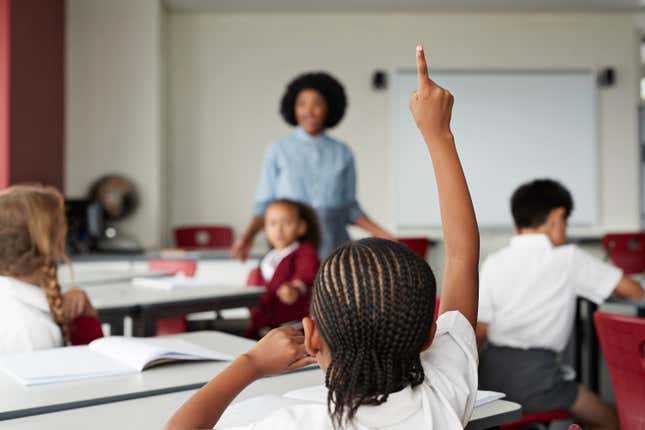 News that the Florida Board of Education wants educators to teach that slavery benefited enslaved people (understandably) sparked national outrage. Vice President Kamala Harris condemned the move as promoting "revisionist history." But Florida is far from the only state with restrictions on educators' ability to teach about race, gender, and biases accurately.
Odell Beckham Jr. & How Misogyny Harms Black Men
In Tennessee, teachers are fighting an uphill battle against sweeping restrictions on what they can and can't say about some of the most pressing issues of our time. On Wednesday, the Tennessee Education Association filed a lawsuit arguing that the state's restrictions on teaching about race, gender, and bias are unconstitutional.
It's a lawsuit years in the making. In 2021, Tennessee enacted a law banning teaching "certain concepts related to race and sex." The law bans lessons that teach that "an individual, by virtue of the individual's race or sex, is inherently privileged, racist, sexist, or oppressive, whether consciously or subconsciously." And similarly to the new standards in Florida, it also bans any lessons that make an individual feel "discomfort, guilt or anguish" because of their race or sex." Furthermore, it requires "impartial discussion of controversial aspects of history."
While all of that might sound fine to some people in principle, in practice, teachers say it's a mess, especially because the penalty for being found in violation of the law is steep. School districts found in violation risk losing state funding, but what counts as a violation is super murky. I mean, how can you accurately talk about racism in the United States while ensuring that no one ever experiences a moment of guilt?
"The Ban thus deprives Tennessee's public-school students of the information, ideas, and skills — analytical thinking, reasoned analysis, historical understanding, debate — that are central to any concept of civic education in a democratic system," the lawsuit read, according to ABC News.
It could be a while before we know the outcome of this lawsuit. But it's worth paying attention to these and other efforts to fight back against what many consider a blatant effort to whitewash history.