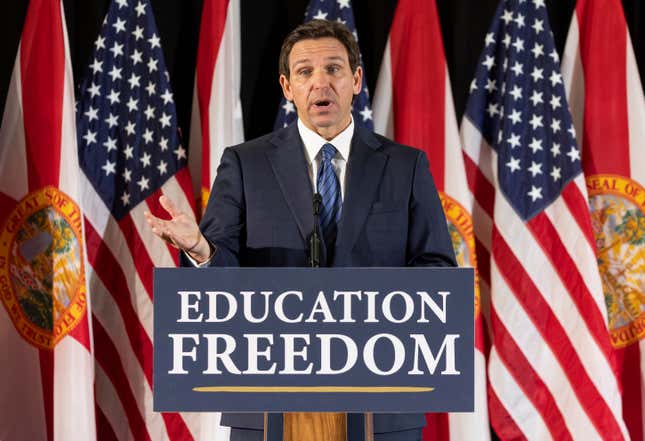 The Florida chapters of the NAACP has warned Black people to not move to or visit the state of Florida amidst their aggressive legislation against African American studies, per NBC Miami. Their concern is that these education bills may roll over into socioeconomic legislation affecting Black people.

Are Black San Franciscans Getting $5 Million Each in Reparations?
Can we be honest? The only reason to visit Florida is for the theme parks and maybe the beach for spring break, but even that is becoming tired. Gov. Ron DeSantis has been signing bills left and right for the past two years that could convince any Black person not to move there unless they were fine with their kids being barred access to books like it's Fahrenheit 451. Given the restrictions of anti-racist learning, the NAACP Miami-Dade branch voted this month to ask the national NAACP to advise Black folks to avoid the Sunshine state completely.
"Our question to Governor DeSantis is, 'What sort of future are you fostering for Black Americans throughout Florida while eradicating our historical contributions to this nation?' There is no 'feel good' version of the horrors and inequalities that Black Americans have faced or continue to face," said NAACP Florida State Conference Chair Adora Obi Nweze. "Slavery, Jim Crow and lynchings followed by ongoing school segregation, mass incarceration, police brutality, housing discrimination, health care disparities, and wage gap are all tough truths to face. Misrepresenting the reality of our history promotes ignorance and apathy."
Last week, DeSantis shut down the idea of the travel advisory all together.
Read more of DeSantis' reaction from USA TODAY:
"What a joke," the governor said. "What a joke. Yeah, we'll see how effective that is."

"Our country, you know, it goes through all these – we get involved in these stupid fights," DeSantis added. "This is a stunt to try to do that. It's a pure stunt, and fine if you want to waste your time on a stunt, that's fine. Look, I mean, I'm not wasting my time on your stunts. OK. I'm gonna make sure that we're getting good things done here. And we're gonna continue to make this state a great state."
Think about it. So far, Florida has attacked history courses with the Stop WOKE Act which endorses the (further) whitewashing of American history. DeSantis banned the new AP course on Black studies before it was even introduced to schools and even advocated for the ban of DEI programs which may affect Black Greek organizations. Aside from students, lawmakers are also introducing more restrictions of voting including identification requirements and more hurdles to requesting a mail-in ballot, per POLITICO.
The two biggest things that drove the Black community's fight toward racial equality was education and the right to vote. DeSantis may be as ridiculous as the bills he signs but he knows what he's doing.