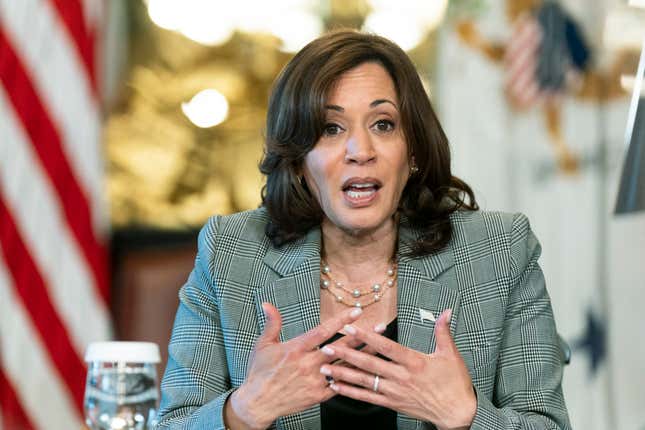 This week, the Florida Board of Education approved controversial new standards for teaching Black history in the state's public schools. The move has already received criticism from the president of the NAACP and Florida's teachers union. Now, Vice President Kamala Harris is the latest to denounce the decision.
Eboni K. Williams On Being A Disruptor: From Fox News to Real Housewives | Securing the Bag: Part 3
During her keynote address at Delta Sigma Theta Sorority, Inc's national convention on Wednesday, the Vice President spoke out against the disturbing new set of standards which includes teaching "how slaves developed skills which, in some instances, could be applied for their personal benefit."
"Speaking of our children, extremists pass book bans to prevent them from learning our true history – book bans in this year of our Lord 2023. And while they do this, check it out, they push forward revisionist history," she said in a speech shared with The Root. "They insult us in an attempt to gaslight us, and we will not stand for it."
The Vice President also took time to highlight the Biden-Harris administration's ongoing commitment to fight for American's fundamental freedoms, including the right to vote and women's bodily autonomy. And she called on her audience to join in the fight to protect future generations.
Here's more from her speech:
"Let us continue to stand together and fight for what is right. Because we know it is right to fight for the freedom of every woman to control her own body – not her government. It is right to fight for a future in which every person can live free from discrimination and hate. It is right to fight for safe communities. It is right to fight for paid leave, and clean water, and affordable child care. It is right to fight to pass the John Lewis Voting Rights Advancement Act and the Freedom to Vote Act. It is right to fight against book bans and the truth. So Delta Sigma Theta: let us fight, fueled by the love of our children. Let us fight, fueled by the love of our country. And let us fight with the knowledge and the faith that when we fight, we win."