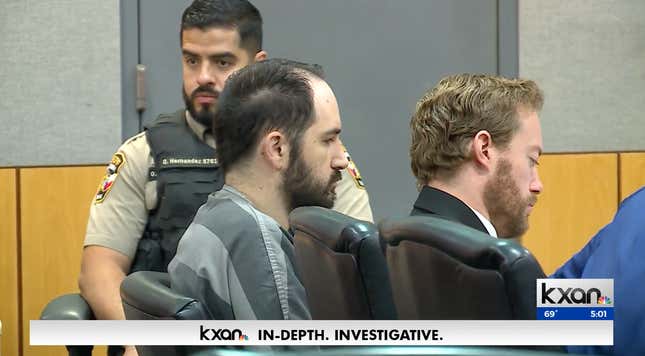 Daniel Perry, a U.S. Army sergeant convicted of murdering a Black Lives Matter protester, was sentenced by a grand jury to 25 years, according to KXAN News. Texas Gov. Greg Abbott previously stated he would seek to pardon Perry. Though, it's been crickets since his conviction came down.

Small Town Horror Story: The Killing of Aiyana Mo-Nay Stanley-Jones
Perry was convicted of murder after fatally shooting Garrett Foster after nearly running his car into a crowd of BLM demonstrators in July 2020. Foster approached Perry's vehicle with a firearm and as soon as Perry wound his window down, he shot at Foster. Perry claimed he was acting in self-defense, however, a series of social media posts preceding the event displayed threats to harm BLM protesters as well as racist rhetoric. His attorneys argued Tuesday in court that the posts were "taken out of context."

Gov. Abbott proclaimed on social media that he would expedite a pardon for Perry before his sentence, citing Perry was exercising his right to self-defense behind the "Stand Your Ground" law. Though, after Perry's dirty laundry was circulated following the conviction, the governor and his office failed to respond to requests for comment on the matter.
Abbott wasn't the only one advocating for Perry, of course. His friends and family, some who were Black, testified about his character at the sentencing describing him as a honorable veteran and with not a racist bone in his body.
On the other hand, Foster's fiancé, Whitney Mitchell will only know Perry as the man who took away her future spouse and caregiver. Mitchell explained in court that she suffered from sepsis, an illness that claimed both her legs and arms. With Foster being gone, her friends have had to pitch in to help.
Read more about the sentencing from KXAN:
"It's extremely hard to be in that house," Foster's fiancé Whitney Mitchell said in her final appearance on the stand during Perry's sentencing hearing. "A house that me and him [Foster] built together … his stuff is there, and there are reminders."

The 147th District Court Judge Clifford A. Brown determined Perry's sentence Tuesday. On Monday he heard attorneys bring forth their final witnesses and closing arguments during Daniel Perry's sentencing hearing. The prosecution requested a minimum of 25 years, while the defense argued for 10.

Both the state and the defense did everything they could to appeal to Brown's emotions before he decided how long Perry will spend behind bars.